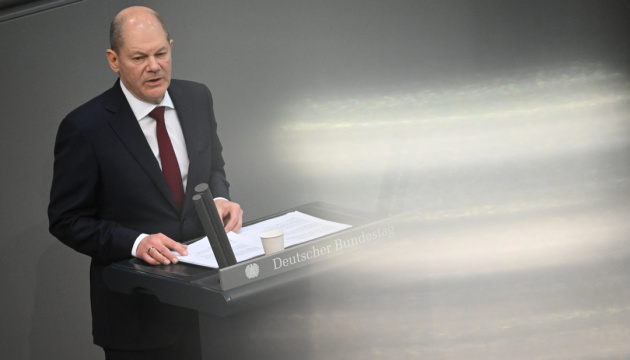 Putin lives in realities of past centuries - Scholz
German Chancellor Olaf Scholz has once again harshly criticized Russian President Vladimir Putin who does not behave like a modern leader but dwells in the realities of past centuries.
According to Ukrinform, the head of the German government said this at the rally in support of the candidate from the Social Democratic Party in the city of Lübeck, Schleswig-Holstein, Ukrinform reports.
"It is important not to lose sight of the message that President Putin of Russia has sent to Europe and the world. This message sounds like this: the law means nothing anymore; when I have power and might, I will break the law in order to achieve my goals, which we have known since the 19th, 18th, 17th, and other centuries," Scholz said.
That, he noted, is why the unity of Germany with its friends and allies in the EU and NATO is so important. "And we say: Germany and NATO will be so equipped militarily that no one will dare attack us and our countries," Scholz promised.
He also reaffirmed Germany's support for Ukraine, including arms supplies. Since 2014, Germany has been the second-largest donor to Ukraine, Scholz recalled, adding that Germany is now supporting it in a new way – by helping Ukrainians defend themselves. "And it's true that we provide arms. We do, and will continue to do so," the chancellor said.
He also appealed to Putin to stop the war immediately and to think about the fact that he is "destroying his country's future."
On February 24, the Russian Federation began a new phase of its war against Ukraine. The invaders continue to shell and bomb peaceful Ukrainian towns and villages, torture and kill civilians.