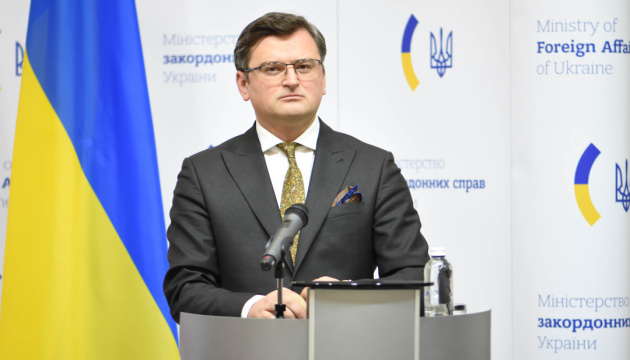 Battle for Donbas to remind World War 2 - Kuleba
The battle of Donbas will not be a local operation and will be reminiscent of World War 2 involving thousands of tanks, armored vehicles, aircraft, and artillery.
This was stated by Minister for Foreign Affairs of Ukraine Dmytro Kuleba, who spoke at a press conference following the meetings held at NATO Headquarters, an Ukrinform correspondent reports.
"The battle for Donbas will remind you, and I regret to say it but this is true, the battle for Donbas will remind you of Second World War, with large-scale operations, maneuvers, involvement of thousands of tanks, armored vehicles, planes, artillery… This will not be a local operation, based on what we see in Russia's preparations for it. Russia has its plan, we have ours. And the outcome will be decided on the battlefield," the top diplomat said.
Kuleba said Kyiv is observing redeployment of Russian units.
According to the minister, it is important for the partners not to claim that they still think they should go through all procedures, that there are many issues that need to be resolved before making a decision.
"Either you help us now, and I'm speaking about days, not weeks, or your help will come too late. And many people will die, many civilians will lose their homes, many villages will be destroyed exactly because this help came too late," the Foreign Minister stressed.
As Ukrinform reported, earlier the head of the Ukrainian President's Office, Andriy Yermak, said the battle for Donbas will now be key in the Russian-Ukrainian war and it will determine further developments.
On February 24, the Russian Federation launched a new phase of its war against Ukraine. The invaders have been shelling and bombing peaceful towns and villages across Ukraine, torturing and killing civilians.