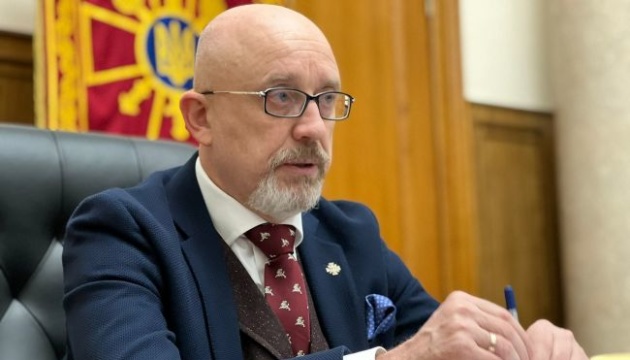 Reznikov: Russia's aggression poses threat to all Black Sea region countries
Russia's attack on Ukraine has caused a large-scale humanitarian crisis and posed a direct security threat to all Black Sea region countries.
Minister of Defence of Ukraine Oleksii Reznikov made a corresponding statement at a virtual meeting with fellow ministers, organized by the Turkish side, Ukrinform reports with reference to the press service of the Ministry of Defence of Ukraine.
As noted, a special attention was paid to the security issues in the Black Sea region, the evacuation of civilians from combat areas, the security of international navigation, possible measures for ceasefire and preserving peace.
All the international partners expressed undisputed support of Ukraine's sovereignty and territorial integrity in its internationally recognized borders.
"Russia's invasion has caused a colossal humanitarian crisis and created direct security threats to all states in the Black Sea region. Safety of international navigation is undermined. Russia is creating provocations against civilian vessels. Some of them are blocked in Ukrainian ports and have already been attacked by Russia, there are victims," Minister of Defence of Ukraine Oleksii Reznikov said at the meeting.
According to Reznikov, the Russian Navy throws into the sea mines seized in Sevastopol, which belonged to the Ukrainian Navy until 2014. "De facto, it is an attempt to commit terrorist acts against civilian vessels," he stressed.
The minister informed the meeting participants of the situation at the front. Particular emphasis was placed on the situation in Mariupol, where Russian troops caused a humanitarian catastrophe.
"I will note that all colleagues knew about the acts of genocide that the Russian occupiers staged in Bucha and other suburbs of Kyiv. Such a dialogue is important to ensure the full support of Ukraine and the approach of our victory," Reznkov said.
The meeting was attended by Minister of Defence of Turkey Hulusi Akar, Minister of Defence of Bulgaria Dragomir Zakov, Minister of Defence of Georgia Juansher Burchuladze, Minister of Defence of Mariusz Błaszczak, and Minister of Defence of Romania Vasile Dîncu.
As the Ministry of Defence of Ukraine stressed, the meeting in such a format was held for the first time, when partners from Ukraine and Georgia is involved in the discussions of regional problems with four NATO states.
On February 24, Russian president Putin started a full-scale invasion of Ukraine. Russian troops shell and destroy key infrastructure, massively fire on residential areas of Ukrainian cities, towns, and villages using artillery, MLRS, and ballistic missiles.
Martial law was imposed in Ukraine and general mobilization was announced.
ol