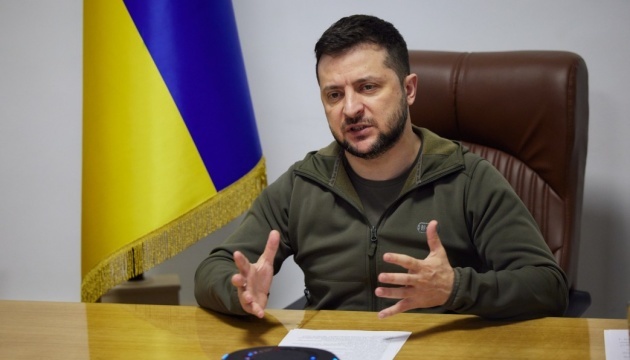 President Zelensky: Security guarantees for Ukraine under development, but no specifics yet
Security guarantees for Ukraine are under development, but there have been no specifics yet.
The relevant statement was made by Ukrainian President Volodymyr Zelensky in an interview with Ukrainian media outlets, an Ukrinform correspondent reports.
"We have not yet met with all advisors [countries that expressed readiness to act as security guarantors for Ukraine – Ed.]. Thus, we want to meet all of them, but this meeting has not yet been held. We are looking forward to holding it in the near future," Zelensky told.
In his words, only after the meeting, Ukraine will "continue working on the first case named Ukraine's security, providing for the neutral status".
According to Zelensky, security guarantees are being discussed with France, the United States, Germany, Turkey, the United Kingdom, Poland, Italy, Israel, Ireland and other countries.
"All these different countries are ready to guarantee different things, but so far Ukraine has not received a specific list of such guarantees and the countries that are 100% ready to join us. We do not need to have 40 countries that are ready to join and fight for Ukraine at the command. We do not need this; we need serious players that are ready for anything. We need a number of states that are ready to provide us with any weapons within 24 hours. We need certain countries, on which the sanctions policy depends, and such sanctions must be developed and written out. We need them to introduce everything at once, as soon as we hear a threat from the Russian Federation, within a day, or two-three days," Zelensky noted.
At the moment, however, there are few specifics. In terms of the Black Sea, Turkey has expressed readiness to act a security guarantor but has not yet signed anything.
According to Zelensky, all security guarantors have a good attitude towards Ukraine, but this is not enough.
The President of Ukraine also stressed that, even after signing the most powerful security agreement, Russia might return in two years.
"We must have the Army that is capable to defend the state. We have a common position with the commander-in-chief, and we understand what we are doing. We realize that, even after signing the most powerful agreement, Russia may return in two years. If we accept this, we act accordingly. […] When we talk about certain things related to the defense capacity of our state, we immediately say that we will build a state that is able to defend itself," Zelensky stressed.
In his words, Ukraine would have joined NATO as soon as tomorrow if there had been a real proposal, not just playing with lives of Ukrainians.
"But, this will not happen, unfortunately. Hence, we will develop the security guarantees that can protect us," Zelensky added.
A reminder that, on March 29, 2022, the Ukrainian and Russian delegations held another round of peace talks in Istanbul. The Ukrainian side submitted a number of proposals to end the war, including to sign an international treaty on security guarantees for Ukraine.
Photo: Office of the President of Ukraine
mk