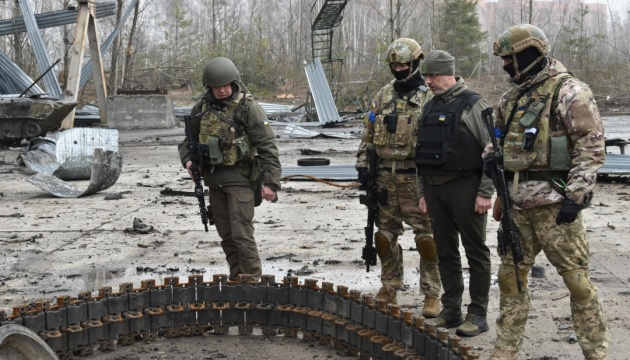 Russia's unsuccessful blitzkrieg to end in "successful Nurnberg" - Ukrainian defense minister
An unsuccessful blitzkrieg by the Russian forces will end in an international tribunal similar to that held in Nurnberg where the Nazis were tried.
That's according to Defense Minister Oleksiy Reznikov, who wrote about this on Facebook after visiting Hostomel, a town outside Kyiv, recently granted a "Hero" title, Ukrinform reports.
"The 'liberators' came with their 'Russian world' to a peaceful, free Ukrainian city with happy families. Today, the whole world sees the results of this liberation," the minister said.
"The pain of our people is unimaginable. But I know for sure: our only national dream will become a reality. We will restore and rebuild everything, and all those involved in the crimes against humanity, led by the Kremlin's main actors, will be held accountable not only to the Ukrainian people but also to the international court," added Reznikov.
"Russian fascists will be held responsible for every Ukrainian life taken and maimed. An unsuccessful blitzkrieg will end in a successful Nuremberg. And the phrase 'I was just following orders' at the Nuremberg Trials will not save any criminal," the defense minister stressed.
As reported earlier referring to the Office of the Prosecutor General, a Ukrainian An-225 Mriya aircraft, the multiple record-holding cargo giant, was destroyed in Russian shelling at the Antonov airfield in Hostomel.