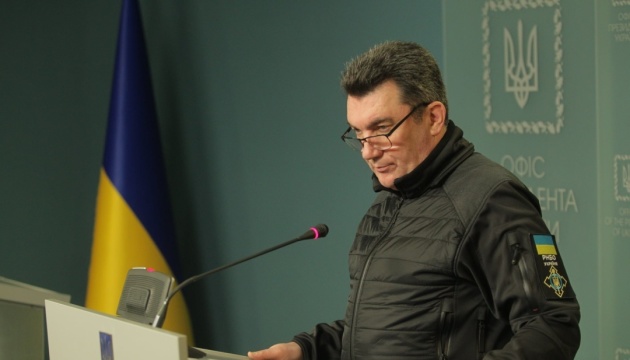 Ukraine must be in alliance with NATO or nuclear powers - NSDC secretary
After the war, unleashed by Russia, is over, Ukraine should join NATO or another alliance with nuclear powers.
Secretary of the National Security and Defense Council, Oleksiy Danilov, spoke about this during a national telethon, an Ukrinform correspondent reports.
"I am in favor of being in an alliance either with NATO or with nations that currently have nuclear weapons. That's because nuclear arms are a safeguard you can count on. At one time, in 1994, we gave up our nuclear weapons for nothing as we had in mind that we should be protected because of this. We should have been provided with security guarantees if required, but we see that the country that signed all this violated the deal in 2014 and, unfortunately, bore no responsibility for this," Danilov said.
Regarding our dialogue with Russia, he said that this country has never kept its promises.
"As for the dialogue with the Russian Federation, I do not believe them. In general, I think it is nonsense to have a dialogue with the people who came to kill us," said the secretary of the National Security and Defense Council.
According to the top security official, a team is currently negotiating with Russia, trying to agree that humanitarian aid is delivered to the cities suffering from Russian aggression the most.
"There is a decision of the UN Court, which the Russian Federation ... is not going to implement. I have a question: what is Russia doing in the UN Security Council? Maybe it's time to sack them if they are unwilling to follow the norms and rules existing in the modern civilized world?" Danilov emphasized.
He also noted that some global brands, despite the general boycott of Russia, continue commercial operations in the aggressor country. "Some French companies remain in the Russian market and continue to make money there. These are unacceptable things... For this money that the French earn and off which they pay taxes to the Russian budget, the Russcists buy bullets and weapons and kill civilians, children, women, and the elderly," said the secretary of the National Security and Defense Council.
On February 24, Russian President Vladimir Putin launched a full-scale invasion of Ukraine. Russian troops have been shelling and destroying infrastructure, massively targeting residential areas in Ukrainian cities and villages, using artillery, multiple rocket launchers, and ballistic missiles.
The United States, the European Union and other nations have imposed sanctions on the aggressor power.
On March 16, the UN International Court of Justice ordered Russia to immediately cease the invasion of Ukraine.