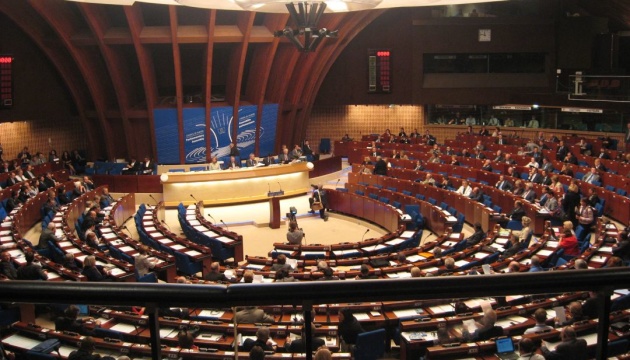 Ukraine at Council of Europe underscores importance of closing sky
A no-fly zone over Ukraine will save many lives and help prevent an environmental disaster as the Russians are deliberately shelling Ukrainian civilian and nuclear facilities.
Olena Bohdan, the representative of Ukraine, Head of the State Service of Ukraine for Ethnic Affairs and Freedom of Conscience, made a corresponding statement at the plenary session of the Council of Europe Steering Committee on Anti-Discrimination, Diversity and Inclusion (CDADI), the Ministry of Culture and Information Policy of Ukraine informs.
As the official stated, there is currently no safe place in Ukraine due to Russian airstrikes on peaceful sites such as houses, maternity hospitals, random Ukrainian towns and villages.
" Ukrainian air defense intercepts many missiles. But it cannot intercept all of them. Bombardment is very intensive right now. Ukraine really needs more air defense units and more military aircraft," Bohdan said.
The representative of Ukraine stressed that Russia's shelling of Ukrainian nuclear power plants posed a special danger as the Ukrainian artillery could not return fire on Russians near nuclear facilities due to the danger of environmental disaster.
"That is why Ukraine asks NATO and its partners to help establish a no-fly zone over Ukraine. It will save many lives and prevent an environmental disaster," Bohdan said.
The Head of the State Service of Ukraine for Ethnic Affairs and Freedom of Conscience also stressed the importance of joint opposition of European and world countries to Russian lies and cruelty because the war in Ukraine is actually the war for freedom and security of the whole modern world.
"While Ukraine is defending itself, it also defends the space of freedom in Europe – the space of freedom in the modern world," Bohdan concluded.
As reported, President Volodymyr Zelensky said in an interview with foreign media that there were several possibilities to close the sky over Ukraine. One of them is to supply Ukraine with missile defense. At the same time, as the President emphasized, Ukraine found suppliers, developed supply logistics, and is ready to pay. The President stressed that Ukraine was considering an alternative to closing the skies, including aircraft supplies.
ol