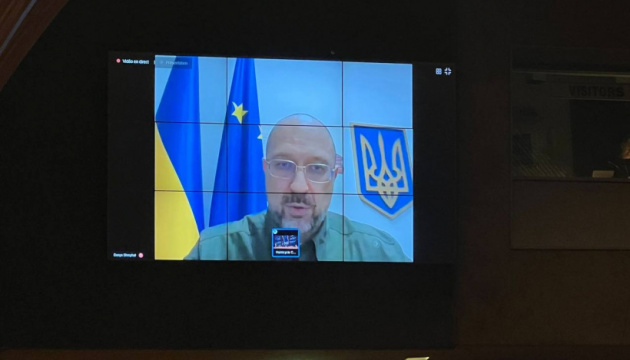 Shmyhal calls for immediate expulsion of Russia from Council of Europe
Prime Minister of Ukraine Denys Shmyhal addressed the extraordinary session of the Parliamentary Assembly of the Council of Europe (PACE) and called for the immediate expulsion of Russia from the CoE.
"We all are well aware that punishment for genocide and terrorism is impossible to avoid. And we must be even tougher in our response. We demand a decision on the immediate exclusion of Russia from the Council of Europe! Those who unequivocally support unprovoked and unjustified aggression have no place in a single European family where human life is of the highest value", Denys Shmyhal said in his video address to the parliamentarians of 46 European democracies, the Government portal informs.
The Prime Minister also called on European politicians to close the skies over Ukraine and join efforts to stop aggression and killing civilians as well as to ensure the safety of humanitarian corridors.
"It is vital to halt aggression. Before there occurs a nuclear catastrophe. Before the whole of Europe is on fire. Therefore, we demand: to close the sky over Ukraine! Close the sky, in an effort to save the lives of the people who are on the territory of Ukraine, close the sky to protect the European and world security," the Prime Minister stressed.
In turn, PACE President Tiny Cox reaffirmed the solidarity of the Assembly and the entire international community with Ukraine in these difficult times of war with the Russian Federation.
He stressed that the procedure for expelling a member state of the Council of Europe from the organization had been launched for the first time in 73 years of its existence.
The extraordinary PACE session, which is taking place these days in Strasbourg, is convened to discuss the consequences of the aggression of the Russian Federation against Ukraine and to decide the further fate of the aggressor's participation in this international organization. Following the debate on March 15, an official conclusion of parliamentarians is expected to be adopted with recommendations for further action in the context of the suspension of Russia's right to represent the Council of Europe's statutory bodies, including the PACE and the Council of Europe's Committee of Ministers.
ol