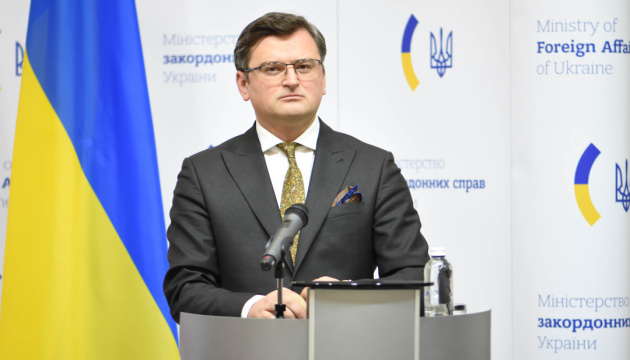 As long as Russia is killing our people, more sanctions must be applied against it - Kuleba
Ukraine insists that as long as Russia is killing Ukrainian citizens, new sanctions must be applied against the aggressor power.
This was stated by Minister of Foreign Affairs Dmytro Kuleba at an online briefing on Monday, Ukrinform reports.
"In negotiations with partners, I often hear the argument that they have already imposed unprecedented sanctions and continue to impose them, that they have never had such sanctions experience, that they need to pause and see how sanctions already implemented are affecting Russia. And my response to that is very clear: as long as the war goes on, as long as Russia is killing our citizens, new sanctions must to be applied," Kuleba said.
He added that there is a clear list of sanctions that Ukraine is seeking to impose, and "we pursue these goals very consistently".
Kuleba recalled that the EU was drafting a new "fourth" sanctions package. According to the minister, it will include sanctions against individuals and legal entities and a number of large Russian companies "with a special focus on the Russian military-industrial complex".
MFA head also noted that the U.S., the UK, and Canada are already snubbing Russian oil and coal.
"We are actively working to ensure that EU nations drop Russian energy... Today Russian oil, gas and coal are soaked in Ukrainian blood... Every dollar paid for them is a dollar for the Russian war machine, which is committing war crimes and crimes against humanity and has destroyed European security... We also insist on closing world ports to Russian ships and disconnecting new Russian banks from SWIFT, primarily Sberbank of Russia," Kuleba said.
As reported, on February 24, Russian President Vladimir Putin announced the launch of the invasion of Ukraine. Russian troops have been shelling and destroying infrastructure, massively bombing residential areas of Ukrainian cities and villages using artillery, multiple rocket launchers, and ballistic missiles.