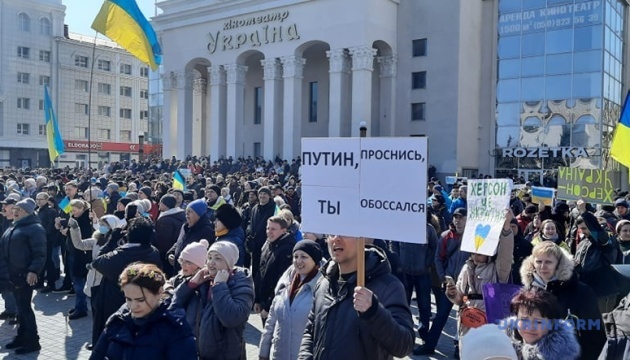 Thousands rally in Kherson, standing against Russian invaders
Thousands of Kherson residents gathered for a rally on Freedom Square on Sunday, protesting Russian aggression.
That's according to Ukrinform's local source, who is attending the event alongside his fellow city residents.
"Several thousand people have gathered here," the source told the agency.
Khersonians are chanting traditional slogans, rooting for Ukraine, hoisting Ukrainian flags and anti-invasion posters.
"Kherson is Ukraine!" the crowd has been chanting.
As Ukrinform reported earlier, the Kherson Regional Prosecutor's Office has launched a pre-trial inquiry into a conspiracy to encroach on the territorial integrity and inviolability of Ukraine. The occupation forces intend to hold an illegitimate "referendum" to create yet another quasi republic on the part of Ukraine's sovereign territory, just as they did in parts of Luhansk and Donetsk regions eight years ago.
To this end, the invaders are trying to persuade and coerce to cooperation local deputies with the Kherson Regional Council.
Deputies of the regional council at an emergency meeting approved a defying appeal, stressing that Kherson remains part of Ukraine.
Kherson deputies will never acknowledge attempts to create a "people's republic" in the region, said Kherson Mayor Ihor Kolykhayev, commenting on reports on Russia's plans to stage a "referendum" on March 13.
Photo: Ivan Antypenko