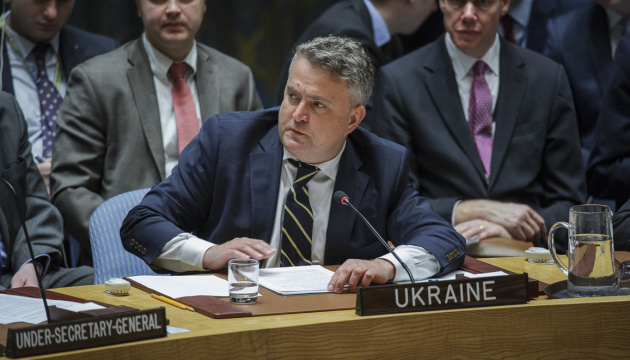 Lying to UNSC, Russia shoots itself in foot, again – Ukraine's envoy
Having convened a meeting of the UN Security Council on "U.S. military biological activities in Ukraine," Russia has once again shot itself in the foot.
This was stated by the Permanent Representative of Ukraine to the UN, Serhiy Kyslytsia, who spoke at the Security Council on Friday, an Ukrinform correspondent in New York reports.
"We know quite well that the manic obsession with which Putin fantasizes about non-existent biological or chemical weapons or hazards in Ukraine is very dangerous. It may actually point at Russia preparing another horrific false flag operation," the diplomat said.
He addressed the Russian representative: "What else are you going to use against Ukraine? Cruise missiles, multiple rocket launchers, heavy aerial bombs? We have already experienced all of this. What is next? Ammonia, phosphorus? And what will be the next target? One more residential building? One more maternity hospital? One more school? Or maybe one more cultural heritage site? "
Kislytsia noted that documents and maps seized by the Ukrainian military from Russian prisoners of war confirm that the bombing of residential areas was planned in advance. Captive Russian pilots confirmed at a press conference in Kyiv that they deliberately dropped bombs on residential neighborhoods.
"By calling this meeting, the aggressor state has shot itself in foot, once again," Kislytsia said, noting that the madness of Putin and his henchmen, including Russia's mission to the UN, has become even more obvious.
According to the representative of Ukraine, Russia is indifferent to the safety of its own citizens, and neither does he care about the thousands of bodies of Russian soldiers abandoned in the fields of Ukraine.
In his view, Russia's manipulation of the Security Council through "such an insane delirium" is an utmost disregard of its members and detrimental to the Council's credibility.
In fact, the Security Council should consider war crimes and crimes against humanity, which the Russian Federation has been committing every day since February 24, 2022, Kyslytsia added.
Kyslytsia appealed to Russia's envoy to ask Moscow to release the mayor of Melitopol, kidnapped by the invaders.
Kyslytsia also recited a few paragraphs from the appeal signed by 194 Nobel laureates: " The undersigned Nobel laureates voice our support for the Ukrainian people and the free and independent state of Ukraine as it faces Russian aggression. In a move that recalls the infamous attack of Nazi Germany on Poland in 1939 (using similar tricks of feigned provocation) and on the Soviet Union in 1941.
As reported earlier, Russia convened a UN Security Council on March 11 to "discuss U.S. military biological activities in Ukraine."