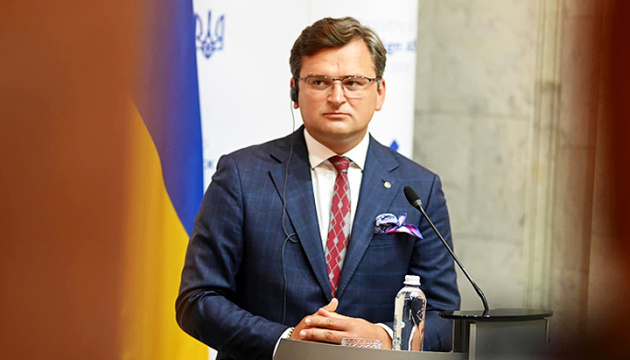 Statement on possible evacuation of diplomats part of Russia's narrative about 'Ukraine's offensive' - Kuleba
Russian Foreign Minister Sergei Lavrov's statement about the possible evacuation of some Russian diplomats from Ukraine is part of Russia's narrative about "Ukraine preparing for offensive operations" and an attempt to shift responsibility for the escalation onto the other side.
Ukrainian Foreign Minister Dmytro Kuleba said this at a briefing in Kharkiv on Friday, February 11, according to an Ukrinform correspondent.
"This [Lavrov's] statement should be considered in the context of the narrative being spread by Russia that it is Ukraine that is preparing for some aggressive actions, some offensive operations. In this way, they are trying to show that their diplomats are in danger and they need protection. All this is a kind of game of narratives, a struggle for who will win the game called 'who is guilty'," Kuleba said.
He also drew attention to the fact that Russia has launched another wave of accusations against Ukraine of allegedly preparing for an offensive and provocations.
"I want to declare absolutely officially that Ukraine is not planning any offensive actions, we do not need any provocations. All these reports from the Russian side are aimed at instilling emotional state and attempts to shift responsibility onto Ukraine," Kuleba said.
op
According to him, thanks to the work of Ukrainian diplomats, Ukraine's partners now have a clear understanding that Russia is responsible for the current escalation.
Lavrov said after talks with British Foreign Secretary Elizabeth Truss on February 10 that Moscow did not rule out the partial evacuation of non-essential diplomatic staff from Ukraine against the background of similar moves by the United States and the United Kingdom.