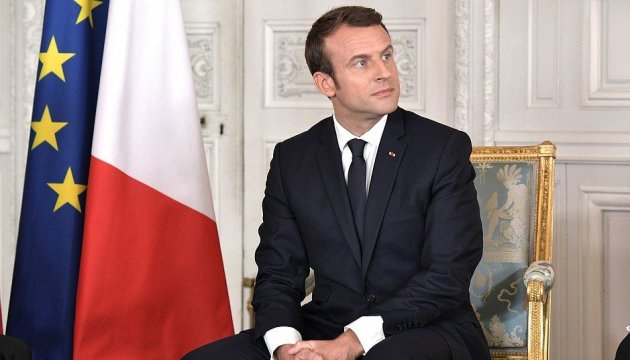 Minsk agreements "base" for resolving "Ukrainian issue" - Macron
President of France Emmanuel Macron says he sees Minsk accords as the base for resolving the "Ukrainian issue" so he will discuss this with President of Ukraine Volodymyr Zelensky at a meeting in Kyiv on February 8.
Macron spoke of the issue at a joint press conference with Russian President Vladimir Putin in Moscow on Monday.
"The Ukraine settlement must be exclusively political. And the Minsk agreements are the base of such settlement. The Normandy format is the right way when Ukraine, Russia, France, and Germany are at the table. These accords require initiative and progress – they must move forward," the French leader said, noting that a number of very sensitive issues, including constitutional reform, (special) status [of Donbas], and elections, are now under consideration and widely debated.
Macron stressed that the recent talks of political advisers to Normandy Four leaders, held in Paris, managed to move forward "on certain technical points."
"I'd like to applaud President [Volodymyr] Zelensky's efforts, in particular, the specific commitments he has made in this format, in particular to repeal a law that is not in line with the Minsk agreements, and this law was indeed repealed at President Zelensky's initiative," Emmanuel Macron added.
The French president also noted that Zelensky leads the nation, which is now seeing 125,000 Russian troops near its border, and this is "top news of the recent months."
"There was no such presence at the border when the Minsk agreements were signed, so this is a very important point, and it was part of our discussion with Putin, this is what this is about t when we talk about de-escalation," Macron said.
President Zelensky is acting in a cold-blooded manner "and that's to be praised."
"In close coordination with German Chancellor Olaf Scholz, we pursue our joint efforts within the framework of the Normandy format, in order to fully implement the Minsk agreements, in order to settle the conflict in Donbas. We need to take concrete steps to implement these agreements – clearly and in full," Macron said.
Regarding his trip to Kyiv, the French president said: "I told both President Zelensky and President Putin that the Minsk agreements could really resolve the situation and make progress on the Ukrainian crisis. And this is exactly what I will talk about tomorrow with President Zelensky. "
Macron also said that after his talks with Zelensky, he would have a phone call with Putin.
As Ukrinform reported, French President Emmanuel Macron flew to Moscow on Monday to hold talks with Russian President Putin on withdrawing Russian troops from Ukraine's borders.
im