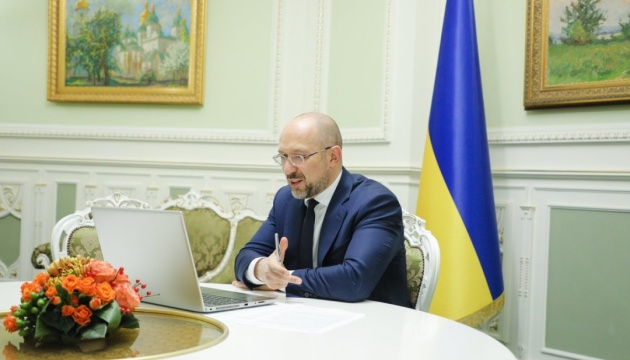 PMs of Ukraine, Azerbaijan discuss development of GUAM transport corridor
Prime Minister of Ukraine Denys Shmyhal and Prime Minister of Azerbaijan Ali Asadov had a phone conversation on the occasion of the 30th anniversary of the establishment of diplomatic relations, Ukrinform reports, referring to the Government portal.
In particular, Denys Shmyhal stressed that "friendship, respect and mutual assistance between Ukraine and Azerbaijan have remained unchanged over the years."
"We consider the GUAM organization as one of the important platforms for our cooperation. Our countries can show leadership potential here. Therefore, we look forward to fruitful work, in particular in the context of the GUAM Transport Corridor project. We could develop the project in terms of delivery and transit of goods along the Europe - Caucasus - Asia transport corridor by rail and sea," said the Ukrainian Prime Minister.
He also proposed that a preparatory meeting of GUAM be held in Baku at the level of Prime Ministers.
"The recent visit of President Ilham Aliyev to Kyiv gave an additional impetus to strengthening the strategic partnership and intensifying cooperation between our countries. The Government of Ukraine in synergy with the relevant central authorities have already started implementation of agreements between the Presidents," Shmyhal said.
He also stressed that Ukraine and Azerbaijan supported and would continue to support each other's sovereignty and territorial integrity.
He invited Ali Asadov to visit Ukraine, in particular in November this year, when commemorative events marking the 90th anniversary of the Holodomor will take place.
For his part, the Prime Minister of Azerbaijan thanked for the invitation and stressed that in their country they respect the history of Ukraine and the Ukrainian people.