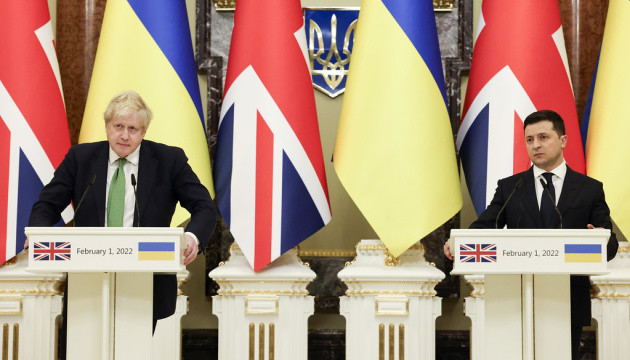 Putin seeks to impose new "Yalta" – British PM
The United Kingdom will oppose any attempts by the Russian leader, who is holding Ukraine at gunpoint, to undermine Europe's security architecture and impose a new "Yalta."
That's according to British Prime Minister Boris Johnson, who spoke at a joint press conference with Ukrainian President Volodymyr Zelensky in Kyiv on Tuesday, February 1, an Ukrinform correspondent reports.
The British prime minister noted that the available intelligence indicates a tense situation near the Ukrainian border and Russia preparing various operations that are consistent with an imminent military campaign.
The United Kingdom is trying to bring the West together, Johnson said. "Of course, it's about Ukraine, and that matters deeply to us. But this is about something even bigger, I'm afraid it's about the whole European security architecture," the British Prime Minister said, adding that by "intimidating Ukraine" and "holding a gun" to its head, Russia tries to get the West to change its approach.
He noted that he was a young man, the Berlin Wall came down and people from the former socialist countries could choose a free life. According to Johnson, it was a "fantastic thing."
"What is happening now is that President Putin, Russia are trying to undermine those immense gains and to redraw the security map of Europe, to impose a new Yalta, new zones of influence. And it wouldn't just be Ukraine to be drawn back into the Russian sphere of influence. You're going to think about Georgia, Moldova, and other countries. This is absolutely critical, this moment. It's vital that we stand together with Ukraine in the way that we are," the British Prime Minister emphasized.
According to him, the current time is "critical and decisive", which is why all the measures to deter Russia, which is introduced by the United Kingdom, are important.
"And we will work very hard on them," Johnson said.
As Ukrinform reported earlier, prime ministers of Britain, the Netherlands, and Poland arrived in Kyiv on February 1.
Photo: Andrew Parsons / No 10 Downing Street
im