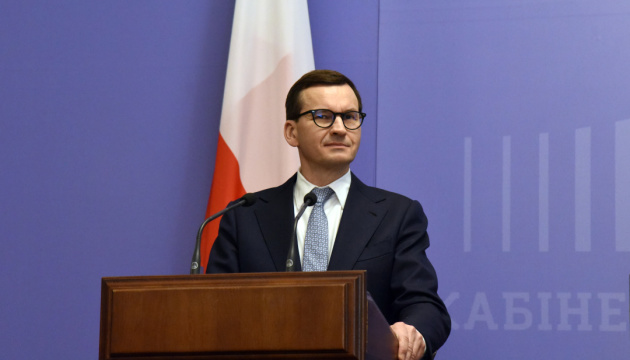 Morawiecki: Alliance of Ukraine, Poland, and UK will protect us from 'Russia's long reach'
The cooperation between Great Britain, Poland, and Ukraine is a struggle for security in the region because it is through security that economic life, trade, and culture can develop.
"The main value is, of course, security in the region. Thanks to security, economic life, trade, and culture can develop. So, we are all interested in this, and such cooperation is a struggle for security in the region," President of the Council of Ministers of the Republic of Poland Mateusz Morawiecki said at a joint press briefing with Prime Minister of Ukraine Denys Shmyhal, an Ukrinform correspondent reports.
Morawiecki noted that Poland had witnessed destabilization on NATO's eastern flank, and Britain felt Russia's "long reach" when Russian intelligence agents poisoned the Skrypals in Salisbury.
"The United Kingdom is important because, on the one hand, it is a NATO member, now it is outside the European Union, and it is also our main trading partner. We are in very, very often contact with our British colleagues. Our ministers are also cooperating towards this format," said the Prime Minister of Poland.
As reported, Prime Minister of Poland Mateusz Morawiecki arrived in Kyiv on February 1. This is his first visit to Ukraine at the post of Prime Minister, which he has held since December 2017. Last autumn, the prime ministers of Ukraine and Poland met at the Economic Forum in Karpacz, Poland.
ol