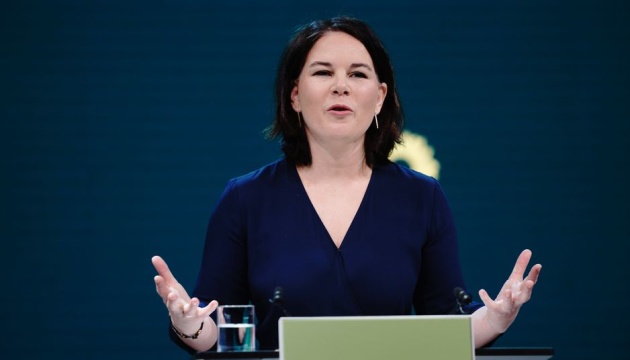 Helmets and bunker near Odesa: Baerbock outlines Germany's support to Ukraine
Germany supports Ukraine in the military sphere as evidenced by the decision to supply 5,000 protective helmets.
"And Germany also supports Ukraine militarily. In particular, I would like to state this clearly here, we are now supplying protective helmets," German Foreign Minister Annalena Baerbock said at the debate on Russian military threats to Ukraine at the Bundestag on Thursday, an Ukrinform correspondent reports.
She added that the same applied to the issue of a "protective bunker near Odesa." "A few days ago, we were urged to support its restoration. Tomorrow, the first on-the-spot visit will be made," the minister added.
Baerbock also pointed out that Ukrainian officers had participated in military education programs at the Federal Ministry of Defense of Germany, and "Germany's support for Ukraine under the NATO Trust Fund has totaled more than 8 million euros since 2014."
At the same time, the chief German diplomat noted that official Berlin still adhered to the stance on non-supply of lethal weapons to Ukraine.
As reported, German Defense Minister Christine Lambrecht said on Wednesday that Germany would provide Ukraine with 5,000 military helmets, which should be a "clear signal" that Berlin is on the Ukrainian side.
ol