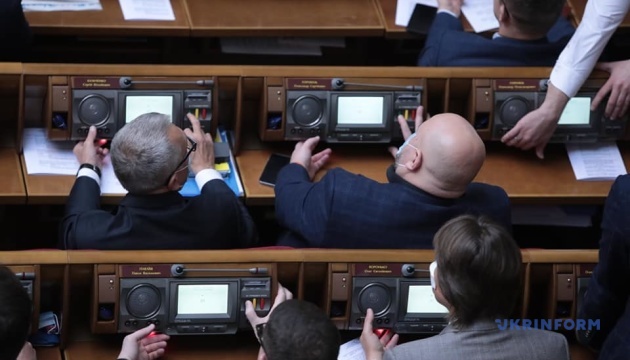 Ukrainian parliament addresses intl organizations over Russia's military blackmail
The Verkhovna Rada, Ukraine's parliament, has addressed the United Nations, the European Parliament, governments and parliaments of foreign states, as well as parliamentary assemblies of international organizations, regarding the unacceptability of Russia using military blackmail against Ukraine to prevent it from joining the EU and NATO.
According to an Ukrinform correspondent, 282 MPs voted for a respective resolution, No. 6543, at a parliament meeting on Tuesday, January 25.
Ukrainian lawmakers proposed recognizing that Russia's demands to international partners to prevent the implementation of European and Euro-Atlantic aspirations of Ukraine are a violation of, inter alia, the Constitution and legislation of Ukraine, basic principles and norms of international law, the UN Charter, the Helsinki Final Act of August 1, 1975, the Charter of Paris for a New Europe of November 21, 1990, the Budapest Memorandum on Security Assurances of December 5, 1994, UN General Assembly Resolution 68/262 "Territorial Integrity of Ukraine" (March 27, 2014), and the International Convention for the Suppression of Financing of Terrorism (December 9, 1999).
Verkhovna Rada Chairman Ruslan Stefanchuk has been instructed to immediately send the text of the address to the United Nations, the European Parliament, governments and parliaments of foreign states and parliamentary assemblies of international organizations.
"The measures proposed by the draft resolution will help consolidate international legal efforts to prevent the expansion of aggressive actions by the Russian Federation against Ukraine and the whole of Central and Eastern Europe," Stefanchuk said, delivering a report from the parliament's rostrum.
The resolution comes into force from the date of its adoption.
Russia has been moving its troops to Ukraine's borders since late October. Western media outlets, citing their sources, reported that a new Russian invasion of Ukraine could occur in early 2022, with about 175,000 Russian troops involved. The situation near the eastern Ukrainian border is a matter of concern to U.S. and European officials.
On January 24, 2022, President Volodymyr Zelensky chaired a meeting of the Ukrainian National Security and Defense Council to discuss measures to ensure national security from internal and external threats, the current situation in the economy, energy, countering the consequences of the coronavirus pandemic, etc.
At a briefing held after the NSDC meeting, NSDC Secretary Oleksiy Danilov said that the authorities urged Ukrainians to remain calm, as the country has an alert system and people will be informed about a possible escalation of the situation by Russia.
op