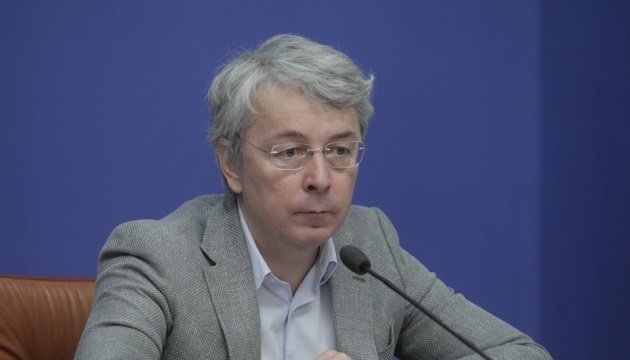 Tkachenko: Kremlin propaganda should be treated as "information infection"
Ukraine needs to limit Russia's information influence as much as possible.
Minister of Culture and Information Policy Oleksandr Tkachenko addressed the issue in an oped published by NV.ua, Ukrinform reports.
"Russia's informational influence must be restricted as much as possible. Any media with signs of Kremlin propagandists' presence should be treated as an information infection, as a malign tumor. After all, the feature of modern Russia is that it treats information not as a tool for circulating knowledge or information but as one of the tools of war," Tkachenko wrote.
According to him, the issue of Russia's informational influence should be approached strategically, directing forces at several areas, that is, not only to expose 'Kremlin lies,' but also setting our own agenda, promoting Ukrainian narratives, shaping up Ukrainians' resistance to disinformation, consolidating and synchronizing within these narratives.
"The main goal of the aggressor power is to undermine our unity, so that we stop resisting amid this chaos. The stability of any state is about stability of citizens, so the narratives proposed will work only if mutual support is out there. Ukraine's main principle in information resistance must be circulating truth and real facts," the minister wrote.
He noted that information should be treated with skepticism if it operates abstract concepts, accuses individuals and tries to intimidate the audience; reposts old news, has a scandalous headline and an excessively charged vocabulary; contains controversial narratives that are traditionally used by the enemy, such as "brotherhood" or "one people."
"It's just one of the tools Russia uses for propaganda purposes. In fact, there are many more, and they can be found anywhere: on TV, across social media, and in chat messengers. We have to be careful that this infection doesn't get into our minds. The more we will use critical thinking tools and believe in our Ukrainian path, the sooner we will win. Media literacy and information hygiene is a must, as well as information consumption skills," Tkachenko added.
As reported, the national media literacy project, "Filter," launched by the Ministry of Culture and Information Policy, earlier presented a children's book on media literacy.
im