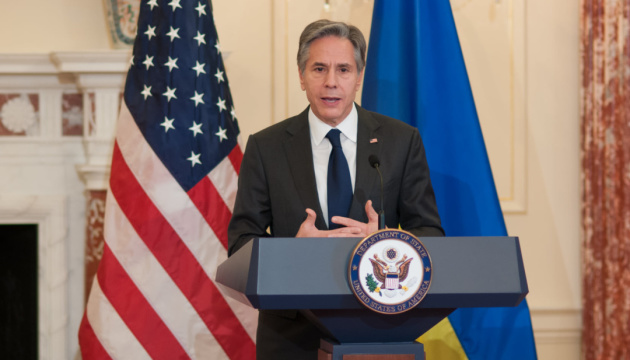 Blinken: Russian threat problem for whole world, not only for Ukraine
U.S. Secretary of State Antony Blinken is convinced that the issue of the Russian threat should be a matter of concern for the entire world, not just Ukraine and the West.
Blinken addressed the issue in an interview with NBC, Ukrinform reports, referring to the State Department press service.
"[T]his is a concern that should extend not only to Europe and the United States, but in a sense it should concern the entire world, because what's at stake here is not simply the relationship between Ukraine and Russia or even between Europe and Russia or the United States and Russia," the state secretary said.
What's at stake are "very basic principles of international relations that have kept peace and security since the last world wars and the cold war."
He stressed that these include "the idea that one nation can't simply change the borders of another nation by force; that it can't dictate to that country its choices, with whom it will associate; that it can't exert a sphere of influence to subjugate its neighbors to its will."
"That's what at stake here," Blinken stressed. "And if you let that go unchecked, that opens a Pandora's box that countries far away from Europe will take into account."
According to the top diplomat, the United States had warned Ukraine about Russian tactics aimed at replacing the country's leadership. "This is very much part of the Russian playbook," Blinken said, noting that the United States is aware of the tools Russia could use, including a false flag operation to create a pretext for the invasion.
The head of the State Department confirmed that in the event of a new Russian invasion, the introduction of Russian troops into Ukraine, there will be a swift, severe, and united response on the part of the Western nations. He added that Russia could also "do short of sending forces into Ukraine again to try to destabilize or topple the government – cyber attacks, hybrid means, et cetera." Washington has made it clear to Moscow that in this case, too, there will be a "swift and coordinated response."
"I've been engaged in close consultations with all of our European allies and partners, including in Europe last week on the phone virtually every day, to make sure that across all of these scenarios we have a clear and united response. And we will," Blinken said.
He also confirmed that the United States, at Russia's request, would share in writing "not only our concerns but some ideas for a way forward that could enhance mutual security on a reciprocal basis."
At the same time, he said, the United States will continue to take steps to deter Russia.
im