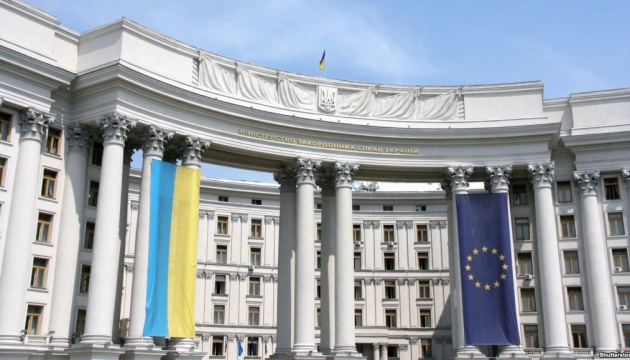 MFA Ukraine "particularly disappointed" with Bavaria minister-president's stance on Russia sanctions
The Ministry of Foreign Affairs of Ukraine says it is "particularly disappointed" by the statements of the chief of the Bavarian government and head of the Christian Social Union, Markus Söder, who earlier spoke out against a new round of tough sanctions to deter Russia.
This is stated in a comment provided to Ukrinform by Foreign Ministry spokesman Oleg Nikolenko.
"Against the background of recent developments in Ukrainian-German relations and the current security situation in Ukraine, the statements of the head of the Bavarian government and head of the Christian Social Union, Markus Söder, are particularly disappointing. They are damaging bilateral relations and undermining international efforts to prevent new waves of Russian aggression against Ukraine and aggressive actions against other European nations," Nikolenko said.
The spokesman noted that Moscow is now seeking to destroy western unity in deterring Russia in order to pursue own aggressive plans.
"To play along with them to this end means to undermine the security of Ukraine, Germany, and Europe in general," the Foreign Ministry spokesman said.
He noted that Söder stressed the importance of Russian energy supplies to Germany, "but gas and company profits cannot be more important than peace and people's lives."
As for the Bavarian minister-president's thesis that Russia is a "difficult partner, but not an enemy of Europe," we recall a number of Kremlin's openly hostile actions against Germany: Russian special services murdering dissidents in the heart of Berlin, hackers attacking Bundestag deputies, and massive disinformation campaigns targeting German society," Nikolenko said.
In this context, the Foreign Ministry spokesman called on Söder to assess realistically the security situation in Europe, the efficiency of the sanctions instrument, and Russia's destructive actions.
In an interview with the Frankfurter Allgemeine Zeitung, Bavarian Minister-President Markus Söder spoke out against harsh sanctions against Russia, saying it was not an enemy of Europe, that sanctions had long been ineffective. and that the new ones, such as disconnecting Russia from SWIFT, shutting down the Nord Stream 2 gas pipeline, or even ceasing gas purchases from Russia in general would all affect Germany.
Söder also opposed Ukraine's accession to NATO in the near future.
As Ukrinform reported, the commander of the German Navy, Vice Admiral Kay-Achim Schönbach, publicly claimed Ukraine had lost the Crimean peninsula for good. He also said Russia was an important nation to maintain dialogue with and that Vladimir Putin deserved respect.
The Ministry of Foreign Affairs of Ukraine called the said statements "categorically unacceptable" and demanded that Berlin clarify, how they correlate with Germany's consistent support for the Crimea Platform initiative to de-occupy the peninsula.
On the evening of January 22, Schönbach resigned from his post of German Navy Commander.
im