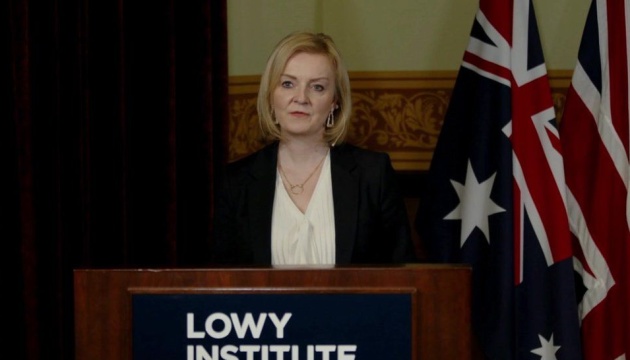 UK foreign secretary compares Russia's potential invasion of Ukraine with Afghan war
Foreign Secretary Liz Truss has warned Russia that invading Ukraine would lead to a terrible loss of life like the Soviet takeover of Afghanistan.
That's according to the BBC, Ukrinform reports.
In a speech in Sydney on Friday, Truss accused Russia of wanting to recreate the Soviet Union - and urged President Vladimir Putin to step back.
"We are very clear, together with our allies in the G7, with our allies in NATO, that if there is an incursion by Russia into Ukraine, it would come at a massive cost. We are prepared to put very severe sanctions in place," she said, adding that the UK was already supporting Ukraine with defense.
Earlier this week, Britain announced it was supplying Ukraine with extra troops for training and defensive weapons.
Truss urged Putin to "desist and step back from Ukraine before he makes a massive strategic mistake." "The Kremlin hasn't learnt the lessons of history. They dream of recreating the Soviet Union, or a kind of greater Russia, carving up territory based on ethnicity and language. They claim they want stability while they work to threaten and destabilize others," she said.
Truss compared Russia's possible invasion of Ukraine with the wars in Afghanistan and Chechnya.
She also called for the UK to work with countries like Australia, Israel, India, Japan and Indonesia to counter the challenge posed by Russia and China.
Photo: www.bbc.com
op