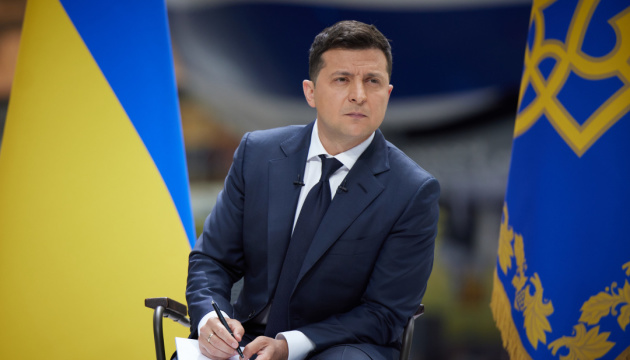 Zelensky expects talks with Russia to lead to de-escalation in Donbas
Ukrainian President Volodymyr Zelensky has said he hopes that talks with Russia will help de-escalate the situation on the border with Ukraine and the Russian leadership will guarantee peace in the Donetsk and Luhansk regions.
He stated this in his video address during an online discussion "Reforms for Investment in Ukraine" on preparations for the Ukraine Reform Conference that will be held in Lugano, Switzerland, in July 2022, according to an Ukrinform correspondent.
"The events that have been unfolding around Ukraine in recent weeks have once again demonstrated Ukraine's unique role for Europe and its future. These events confirm that comprehensive security in Europe is impossible if Ukraine's sovereignty and territorial integrity is not restored. I expect that our joint efforts, our negotiations with the Russian Federation will result in the de-escalation of the situation on the border with Ukraine and guarantees from the Russian leadership that peace will be achieved in Donbas," Zelensky said.
As was reported earlier, Russia continues to amass its troops in the temporarily occupied territories of Ukraine and around its borders. According to Oleksiy Danilov, Secretary of the National Security and Defense Council of Ukraine, about 127,000 Russian troops have currently been deployed on the border with Ukraine.
op