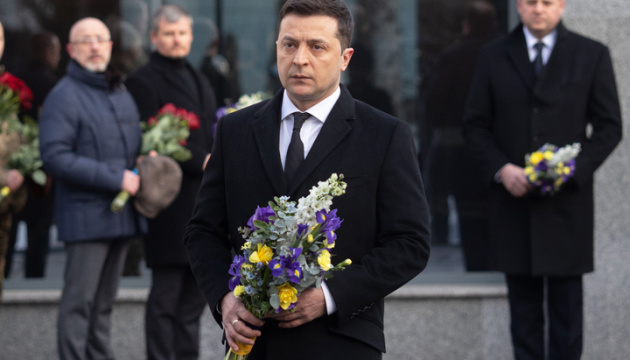 Ukraine leaders honor Donetsk airport defenders
Ukrainian President Volodymyr Zelensky, Verkhovna Rada Speaker Ruslan Stefanchuk and Prime Minister Denys Shmyhal took part in a ceremony to honor Ukrainian servicemen who died on this day for the freedom, independence and territorial integrity of Ukraine, the presidential press service has said.
According to the report, the ceremony took place near the Bell of Memory on the territory of the Ukrainian Defense Ministry.
The names of 54 servicemen who died on this day in different years of the war have been read out, including 51 soldiers who died heroically on January 20, 2015, defending the Donetsk airport.
After each name was read out, a serviceman of the honor guard rang the bell. The head of state then laid flowers at the Bell of Memory.
The ceremony was also attended by Defense Minister Oleksiy Reznikov and Head of the President's Office Andriy Yermak.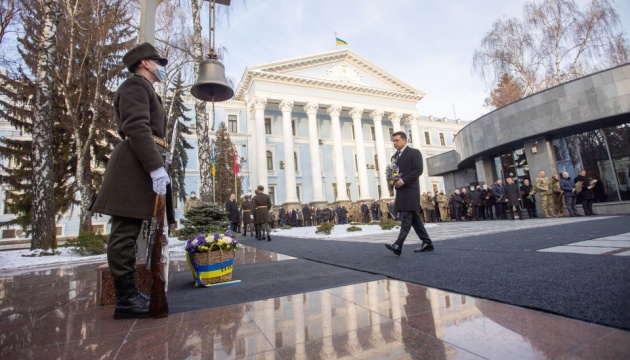 The battle for the Donetsk airport lasted from May 26, 2014 to January 22, 2015 and ended after the old and new airport terminals had been destroyed completely. For 242 days, the Ukrainian military, volunteer fighters, medical workers, and volunteers resisted the onslaught of Russian occupation forces and pro-Russian militants, fiercely defending a small piece of Ukrainian land.
On January 20, 2015, pro-Russian militants blew up the new terminal of the Donetsk airport, ultimately turning one of the country's largest airports into ruins. After that, Ukraine's military leadership decided to pull back Ukrainian fighters. On January 22, the last surviving defenders left the destroyed terminal.
op