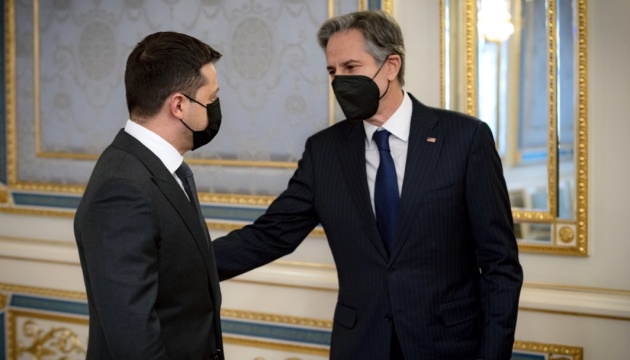 Zelensky, Blinken hold talks in Kyiv
Ukrainian President Volodymyr Zelensky has met with U.S. Secretary of State Antony Blinken and said he hopes that economic and financial cooperation between Ukraine and the United States will strengthen.
The head of state stated this on his Twitter account, Ukrinform reports.
"Ended negotiations with U.S. Secretary of State Antony Blinken. I appreciate personal involvement in the de-escalation of the situation around Ukraine. Grateful for the U.S.' political & security support. Count on enhancing economic & financial cooperation. I'm sure there will be no decision about Ukraine without Ukraine," Zelensky said.
According to Blinken's schedule, after talks with Zelensky, he is expected to meet with Foreign Minister Dmytro Kuleba and hold a joint press briefing.
Blinken arrived in Ukraine on January 19 to "reinforce the United States' commitment to Ukraine's sovereignty and territorial integrity."
On January 20, Blinken will travel to Berlin, Germany, to discuss recent diplomatic engagements with Russia and joint efforts to deter further Russian aggression against Ukraine. There he will meet with Foreign Minister Annalena Baerbock.
On January 21, in Geneva, Blinken will meet with Russian Foreign Minister Sergei Lavrov.
Photo: @ZelenskyyUa
op