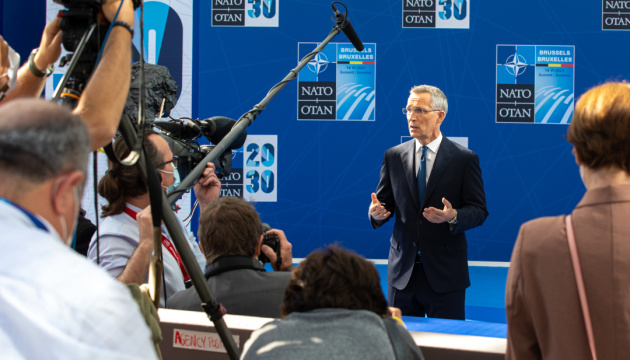 Ukraine has right to defend itself - Stoltenberg on Britain's move to supply weapons
Ukraine has the right to defend its sovereignty and territorial integrity, and NATO supports that right.
This was stated by NATO Secretary General Jens Stoltenberg during a press conference in Berlin following talks with German Chancellor Olaf Scholz, an Ukrinform correspondent reports.
"I think that the important thing is that Ukraine has the right to self-defense. (…) And then NATO provides support to Ukraine to help them to uphold that right," Stoltenberg said in response to a question about Britain's decision to provide defensive weapons to Ukraine.
He noted that such a right is enshrined in the UN Charter.
According to the Secretary General, NATO as an alliance supports Ukraine in various ways.
The bloc provides primarily political, but also practical support – by supporting defense and security institutions in matters of capacity building, training, and developing naval capabilities. In this context, Stoltenberg recalled his recent visit to Odesa, where he witnessed how NATO helps at the Naval Academy.
He acknowledged that different members of the alliance have different approaches to providing lethal and defensive weapons. Some of them do provide such support, Stoltenberg stressed.
Among those who have no plans to provide arms to Ukraine is Germany.
Berlin has been pursuing a "parallel strategy" for years, with the federal government not exporting lethal weapons to Ukraine. With the appointment of the new German government, nothing has changed in this regard, said Chancellor Olaf Scholz.
As Ukrinform reported, Britain will supply Ukraine with new security-enhancing equipment to help increase defense capabilities in the face of the threat of Moscow's invasion. According to Defense Secretary Ben Wallace, these are light anti-tank systems.
im