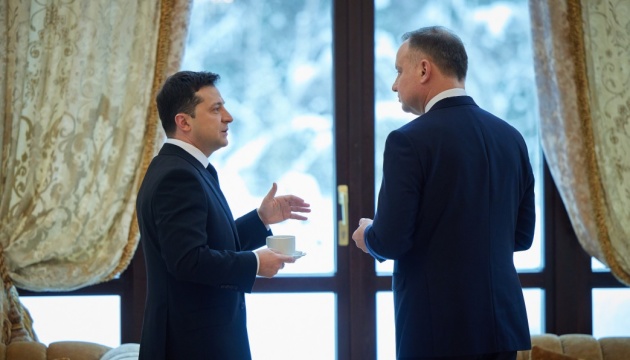 Zelensky, Duda to meet in Wisla on Jan 20-21
Ukrainian President Volodymyr Zelensky and Polish President Andrzej Duda will meet on January 20-21 at the residence of the Polish president in the resort town of Wisla in southern Poland.
Jakub Kumoch, head of the Bureau of International Policy under the President of Poland, said this to the Polish Press Agency (PAP), Ukrinform reports, referring to the news site Wnp.pl.
According to Kumoch, the security situation in the region will be the subject of consultations between the two countries' presidents.
On January 17, Pawel Soloch, head of Poland's National Security Bureau (BBN), also spoke about Zelensky's visit to Poland.
The presidents of Ukraine, Poland and Lithuania met at the Syniohora residence in the village of Huta, Ivano-Frankivsk region, on December 20, to participate in a summit of the Lublin Triangle. A joint declaration, emphasizing clear support for Ukraine's membership in the EU and NATO and the fight against Russian aggression, was signed at the meeting.
op