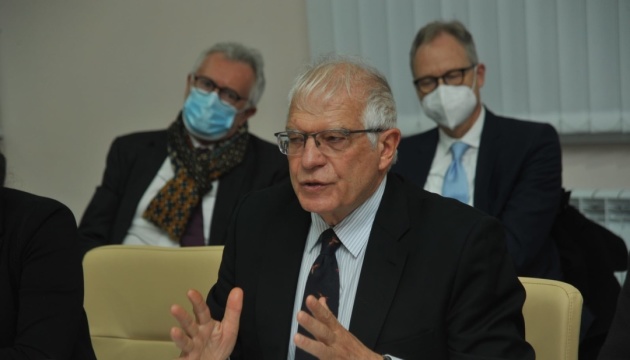 Kremlin's efforts aimed at integrating occupied territories of Ukraine - Borrell
Following a visit to Ukraine, including to a line of contact in the conflict zone in the country's east, EU High Representative Josep Borrell expressed concern over Russia's attempts to push the temporarily occupied Donetsk and Luhansk regions away from Ukraine and de facto integrate them into Russia.
The statement came as Borrell spoke at a joint meeting of the European Parliament Foreign Affairs Committee and the Subcommittee on Security and Defense Monday evening, an Ukrinform correspondent reports.
"Having seen the situation on the ground, I am certainly increasingly worried at the non-government-controlled areas of Donetsk and Luhansk regions driving further apart from Ukraine, pulled by Kremlin's enhanced efforts to achieve their de-facto integration with Russia. I cannot understand what the purpose is of this massive concentration of forces without having this in mind," Borrell told the meeting.
The High representative has underlined that the pressure on Ukraine amid Russian military buildup is more than just "rhetoric" as it is accompanied by the amassing of nearly 140,000 Russian forces at Ukraine's borders. At the same time, Russia has put forward an ultimatum demanding that the Western world accept draft treaties on "security guarantees."
"I think that during that visit I sent a clear message to both Ukraine and to the international community about our support to the Ukrainian sovereignty and territorial integrity and that it will remain steadfast," Borrell underlined.
"I think it's important that we call on Russia to de-escalate and implement Minsk agreements, which has become a kind of mantra that we repeat once and again but they are very far away from being really implemented," noted the High Representative.
He added that the Minsk deal is a complex document that leaves much space to various interpretations on what needs to be done and on the sequence of actions.
As underscored by the EU High Representative for Foreign Affairs, he reiterated during the Ukraine visit the EU's firm commitment to ensure that any further Russian military aggression against Ukraine would lead to severe consequences and a high cost for Russia. It is he, Borrell noted, who is responsible for preparing restrictive measures and submitting them to the European Council for approval, as such type of sanctions will have to be imposed without a long discussion in case of escalation.
"I repeat there is no security of Europe without the security of Ukraine. If the Russians want to talk about their security, about the Russian security, they can talk whatever they want, it's up to them. But if they want to talk about the European security, our security, then certainly we have to be part of the game," Borrell said, adding that this also applies to Ukraine, and that this is something that is shared by the U.S. administration.
As reported earlier, multiple diplomatic events were held in Europe last week to discuss European security issues and find ways to reduce tensions over Ukraine, provoked by the Russian military buildup along its borders. These included an informal meeting of EU defense and foreign ministers (Gymnich) at the initiative of the French EU presidency in Brest.
On January 24, European security issues will be discussed in Brussels at the EU foreign ministerial.
im