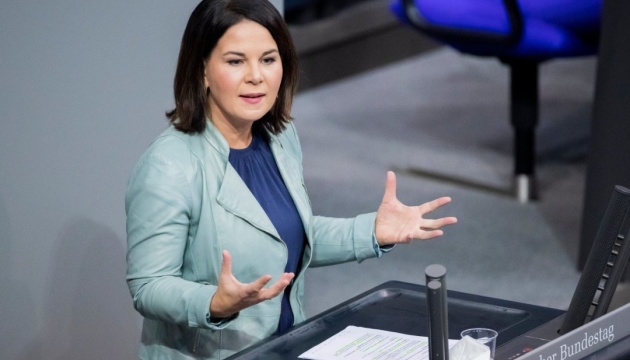 Germany will not compromise on fundamental security principles - Baerbock
Germany and Europe are ready to seek compromises in resolving the Ukrainian crisis, but they are not ready to compromise on core security principles, German Foreign Minister Annalena Baerbock has said.
She said this before her visit to Kyiv on January 17 and to Moscow on January 18, Ukrinform reports.
"We are ready for a serious dialogue on mutual agreements and steps that will bring more security to everyone in Europe, including Russia. But we cannot and are not going to compromise on the fundamental principles of the Helsinki Final Act, which has saved Europe from the nightmare of the Great War for the last 50 years. These include territorial integrity, free choice of unions and the rejection of the threat of violence as a political tool. And we are determined to react should Russia choose to escalate instead," Baerbock said.
She said she wanted to find out on the ground whether there was a willingness to seek a solution through diplomatic channels, and, above all, to "breathe life" into the Normandy process and finally make progress in the implementation of the Minsk agreements.
In Kyiv, Baerbock intends to make clear that Europe and Germany are not negotiating about Ukraine behind Ukraine's back, that the new federal government will continue to be involved and fulfill its commitments, and that the 30th anniversary of diplomatic relations between the two countries is a "good opportunity for renewal." "For me, this primarily means strengthening Ukraine's potential," Baerbock said, adding that she plans to talk in Kyiv about initiatives for the sustainable modernization of the Ukrainian energy market, the development of the green hydrogen market and proposals to support cyber defense.
Baerbock said her task during the talks in Moscow was to prove the position of the new federal government that wants "stable" relations with Russia. But the list of "conflict issues" to talk about is long, she added. Recently, these issues have been casting a "darker shadow" on the possibility of cooperation between the two countries in many areas.
Baerbock noted that an essential condition for diplomacy is to understand the other side's point of view, "even if you sometimes have completely opposite views." She added that she would listen carefully to her interlocutors in Moscow and Kyiv, but at the same time, she will clearly prove the common position of the EU, the G7 and the transatlantic alliance.
Baerbock's visit to Ukraine marks the 30th anniversary of the establishment of diplomatic relations between Ukraine and Germany.
op