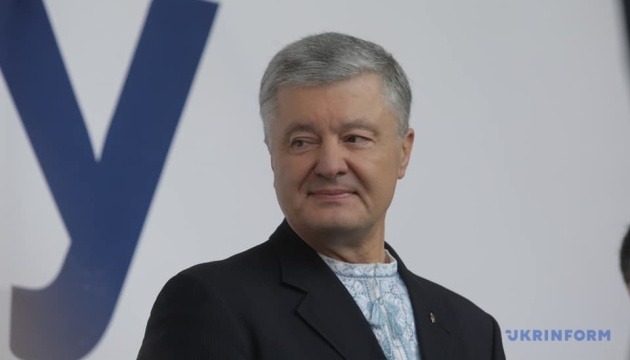 Poroshenko sure he will not be behind bars
European Solidarity party leader and former Ukrainian President Petro Poroshenko has said he is confident that he will not be behind bars.
He stated this in a comment to Radio Free Europe/Radio Liberty, according to an Ukrinform correspondent.
"First of all, I will not be behind bars. [...] He [Ukrainian President Volodymyr Zelensky] has to explain to the public what Poroshenko's treason is. When there were 120 cases with all that nonsense, from a tomos [of autocephaly] to the Minsk agreements, I still endured it. But this is the second case of treason. [...] The first treason charges were brought against me on the basis of my phone call with [Joe] Biden, even before Biden was elected President of the United States. Then they immediately closed the case of treason, and now they found another one," Poroshenko said.
He also stressed that he would definitely return to Ukraine.
Poroshenko said earlier that he would return to Kyiv early on January 17.
On December 20, Acting Prosecutor General Oleksiy Symonenko signed a notice of suspicion for Poroshenko in the case of coal supplies from the temporarily occupied territories of Ukraine.
According to Ukraine's State Bureau of Investigation, Poroshenko is suspected of "aiding the activities of the terrorist organizations 'LPR' and 'DPR' by acting in collusion with a group of individuals, including representatives of the top leadership of the Russian Federation."
In September-November 2021, an incumbent MP and a former energy minister were declared suspects in the case. They are suspected of buying coal from non-government-controlled areas in Donetsk and Luhansk regions using state funds. According to the investigation, through their actions they made Ukraine's energy sector dependent on Russia and terrorist organizations, which, in turn, undermined the economic security of the state in 2014-2015, depriving it of any opportunities for diversification of energy sources and providing Russia with greater opportunities for further interference in the internal affairs of Ukraine and subversive activities against the country.
op