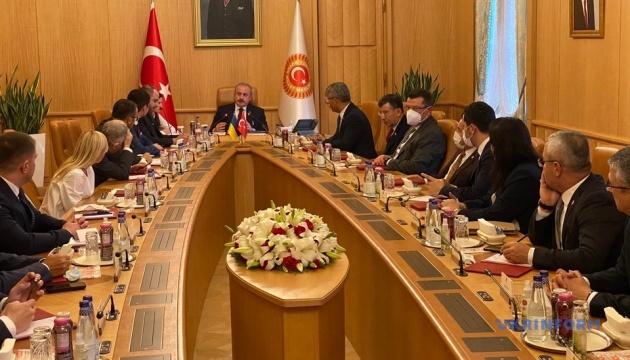 Ukrainian MPs suggest establishing Crimea Platform at Turkish parliament
During their visit to Ankara, the representatives of the Verkhovna Rada Group on Interparliamentary Relations with the Republic of Turkey suggested establishing the Crimea Platform at the Turkish Parliament.
"We thanked Turkey for supporting the Crimea Platform [established by Kyiv], participating in its summit, and signing the declaration. We suggested establishing the Crimea Platform in the Turkish Parliament. Technically, we will work on this issue with our colleagues, the head of the friendship group [in the Turkish Parliament] a little bit later," Verkhovna Rada Group co-chair Rustem Umerov told Ukrinform, summing up the results of the first day of the Ukrainian delegation's visit.
The Ukrainian MP stressed that the Ukraine–Turkey friendship group is the largest one in the Verkhovna Rada. A solid delegation arrived in Ankara, fruitful meetings were held, he said, recalling that preparations are also underway for the Strategic Council meeting with the participation of the presidents of Ukraine and Turkey.
"We hope that on February 3, when the President of Turkey arrives in Ukraine, we will sign several agreements. We are waiting for the ratification of one of them in the Turkish Parliament. This is an agreement on the construction of apartments for internally displaced persons from Crimea, Crimean Tatars," the MP said.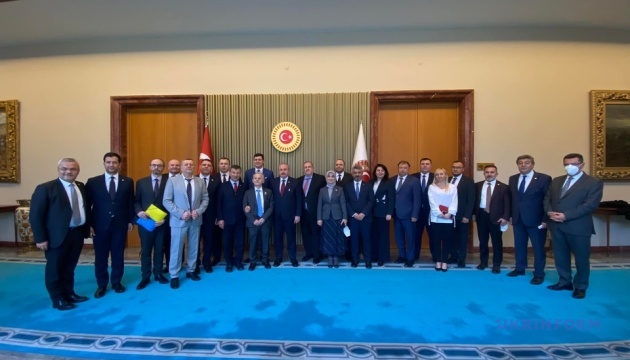 According to him, the threat of further Russia's military aggression against Ukraine was also discussed during the visit.
"We talked about the situation near the borders. Our main message is that we are ready for any challenge now, but we defend not only Ukraine but Europe also, so we rely on the help of international partners. We negotiate politically and diplomatically, but the situation on the eastern border is unacceptable… Turkish colleagues were informed about the current state of affairs, including the situation of political prisoners and prisoners of war. We encourage our colleagues to support our messages on this issue at all international platforms where they are present," Umerov noted.
The possibility of Turkey's assistance in the release of political prisoners was also touched upon in the light of a successful case in this area – the release of Ilmi Umerov and Akhtem Chiygoz four years ago.
During the visit to Ankara, the Ukrainian delegation met with Speaker of the Grand National Assembly (Parliament) of Turkey Mustafa Şentop, Adviser to the President of Turkey Yalçın Topçu, co-Chair of Ukraine-Turkey Inter-Parliamentary Friendship Group Tuğrul Türkeş and the Group members, Head of the Turkish parliamentary delegation to PACE Ahmet Yildiz, Head of the Foreign Affairs Committee of the Parliament of Turkey Akif Kılıç, and Deputy Minister of Foreign Affairs of Turkey Yavuz Selim Kiran.
On Thursday, January 13, the group of Ukrainian parliamentarians will arrive in Istanbul to meet with Ecumenical Patriarch Bartholomew and visit Baykar Teknoloji production facilities.
Photo credit: Olha Budnyk
ol