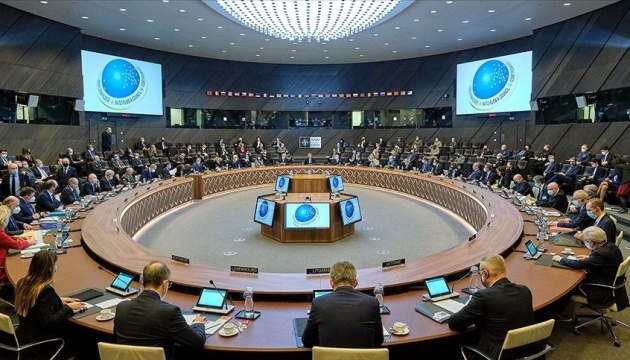 Negotiations in Brussels: You can't show your back to aggressor
NATO leadership has chosen a distinctively diplomatic tone for communication with Russia within the NATO-Russia Commission meeting
On January 9, 10, 12, and 13, all nations and international organizations that oppose Russian aggression and arrogant "ultimatums" approached the series of talks "Civilized World vs Aggressive Non-Systemic Russia" without any illusions. This helped them maintain the tone within the framework of decency and with the prospect of continuation. Western powers traditionally follow the principle that it is better to talk than to fight. And the only thing left Ukraine us is to listen to what was said after the four-hour meeting. But not much was said…
In short, as has been noted by almost all key players in American and European politics, Russia's ultimatum for NATO not to further expand eastwards has been rejected, for the second time in three days. However, this was done in an emphatically diplomatic way.
"We had an open discussion, focusing on tensions around Ukraine and increasing the number of Russian troops at the border. But only Ukraine and NATO have to decide when Kyiv can join NATO. Russia should not have a veto," said NATO chief Jens Stoltenberg.
NATO's principled position on the above-mentioned issue is also clear: the Alliance wants Russia to remain in the spotlight at all times. However, in these negotiations to agree on Russia's mutual representation in NATO and vice versa - failed
Jens Stoltenberg: "We have made it clear also in the meeting today that we [would like to] actually reopen, re-establish, both the NATO office in Moscow and also the Russia mission to NATO because we believe in dialogue. (…) What we have made clear is that regardless of whether these offices are reopened or not, we strongly believe that if Russia is willing to sit down in a series of meetings, addressing a wide range of issues."
Jens Stoltenberg
Another interesting detail is that, compared to Geneva, the leadership of the Russian delegation has changed. Deputy Foreign Minister Sergei Ryabkov was replaced by Lavrov's other deputy, Alexander Grushko, while the military was represented by Russian Deputy Defense Minister Alexander Fomin. On the U.S. side, however, Wendy Sherman, the US Deputy Secretary of State, remained in place following the talks in Geneva on January 9-10, underscoring Washington's steadfast approach.
"In today's NATO-Russia Council, I reaffirmed the fundamental principles of the international system and of European security: Every country has the sovereign right to choose its own path," said Wendy Sherman. As for how to ensure de-escalation, Sherman recommended that the Kremlin simply withdraw troops to the barracks.
NATO harbored no special expectations. Jens Stoltenberg said that a good result would be an agreement to hold further meetings. It seems that the parties have achieved it. And it is very important for Ukraine that the NATO Secretary General emphasized the principled position: we cannot talk about the Russian invasion today, because in 2014 Russia ALREADY attacked Ukraine and occupied part of its sovereign territory. So Russia is no mediator for Stoltenberg, but a party to the conflict. Ukraine has the right to self-defense and poses no threat to Russia.
Meanwhile, some major developments are being reported from the U.S. as regards the Ukraine issue.
In late 2021, the U.S. presidential administration turned out to have quietly provided Ukraine with an additional $200 million in military aid. The supply of almost the same set of defense weapons that the United States had previously supplied to Ukraine is envisaged. These include small arms and ammunition, portable radios, medical equipment, spare parts for certain equipment, and more.
Senate Republicans, at the initiative of Senator Mark Rubio, prepared for a vote a resolution demanding that the administration impose a severe sanction package on Russia in case of further aggression. The measures have been finally named publicly and specifically. Among them is the requirement that Nord Stream 2 never be put into operation if aggression continues.
According to the Washington Post, Senate Democrats have drafted their list of sanctions that will be applied if Russia does invade. The White House seems to have agreed to these proposals, so they are expected to also be voted soon. For the first time on the list of what we have long heard about, such as the blocking of Russia's access to SWIFT, there is a threat of personal sanctions against Vladimir Putin. This would be an unprecedented move as presidents are very rarely subject to sanctions in international relations. As for Putin, it remains to conclude that the next level might be a summons to the Hague tribunal.
So far, we have come to the point where continuing to discuss the issue of whether "Putin will attack or not" has become ridiculous, despite all seriousness of the situation. Ukraine and its partners must stop asking this question without a chance of getting an answer. It's the same as constantly repeating the strange formula "nothing about Ukraine without Ukraine." How is it even possible on practice? It has long been said how this formula should be laid down: "no DECISIONS about Ukraine without Ukraine." However, we have already come to the conclusion that on the eve of the Russia-NATO Council, that is, the BILATERAL format, some Ukrainian politicians continued to publicly complain that "Ukraine is once again left out" of the talks involving its fate.
The OSCE consultations will take place in Vienna on Thursday, January 13. The Ukrainian delegation will take part in these contacts. The meeting will really be interesting, first of all, because it may highlight the position of various European powers - both our friends, members of the Normandy format, and those who have not yet expressed any special sympathy for Ukraine. So we wait.
Oleh Melnychuk, Kyiv
im