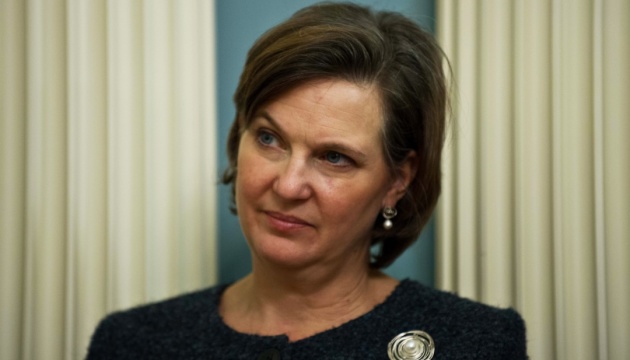 Moscow plans to destabilize Ukraine from within - Nuland
Moscow has prepared a plan for the internal destabilization of Ukraine, according to U.S. Under Secretary of State for Political Affairs Victoria Nuland.
She said this at a briefing on Tuesday, January 11, according to an Ukrinform correspondent.
"It is Russia that created this crisis out of whole cloth. It is Russia that has amassed 100,000 troops on Ukraine's borders. It is Russia that has prepared internal sabotage, destabilization, and false flag options for Ukraine. And it is Russia that has spewed disinformation and lies about Ukraine, about the United States, and about NATO to justify its own actions," Nuland said.
She also stressed that Russia is the aggressor that occupied part of Ukraine in 2014, and Ukraine only wants a peaceful, democratic, European future for its people.
Nuland also recalled that NATO is a defensive alliance whose sole purpose is to protect its members and it poses no threat to anyone. "Decisions regarding NATO membership are up to each individual applicant country and the 30 NATO Allies," she said.
On January 10, in Geneva, the U.S. and Russian delegations held a one-day meeting aimed at the diplomatic search for ways to defuse tensions in Europe. The U.S. delegation rejected any possibility of curtailing NATO's open-door policy for other countries, including Ukraine.
op