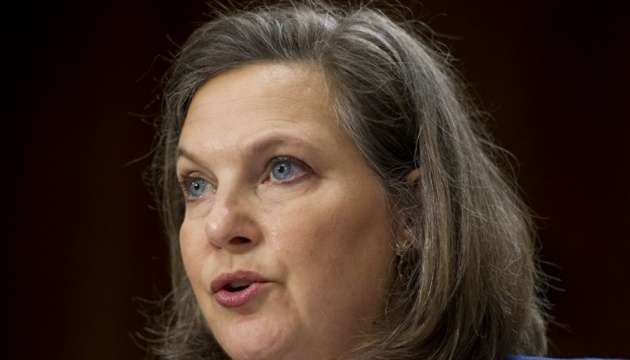 Nuland says U.S., allies in Europe preparing 'very painful' sanctions against Russia
The United States has agreed with its allies in Europe to prepare a package of "very painful" sanctions against Russia should it launch its further military escalation.
U.S. Under Secretary of State for Political Affairs Victoria Nuland said this at a briefing on Tuesday, January 11, according to an Ukrinform correspondent.
"We are very confident in the consultations that we've been having with our allies and partners. We've been working at this for some two and a half months at every level, from the President on down," Nuland said.
According to her, the United States and Europe have a common understanding of the kind of intensive financial measures they will need to take against Russia. In addition, export restrictions are being discussed, which "will have a painful impact on Russia."
Nuland also said that sanctions against Russia could be imposed according to the scenario that has already been worked out.
"The U.S. may take one set of measures and Europe and other allies may take parallel steps that are not exactly the same but also painful to Russia because we have different economic exposure," she said.
She reiterated that Washington is "very confident that we are coming together around a very painful package, but we don't want to have to use it, as you know."
The United States has repeatedly stated that it agrees with allies and partners in Europe on unprecedented anti-Russian sanctions in the event of further Russian aggression against Ukraine.
op