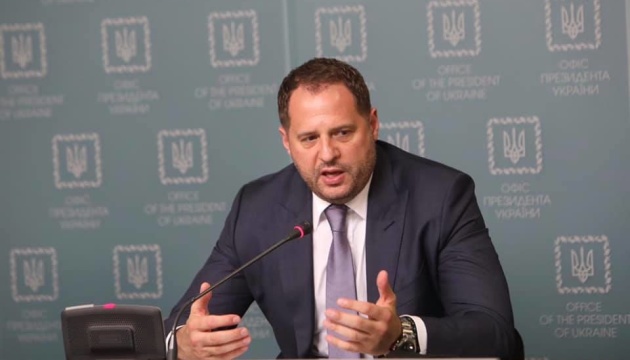 Yermak says over 90% of Ukrainians will defend their country in event of Russian invasion
In the event of a full-scale Russian invasion of Ukraine, more than 90% of Ukrainian citizens will defend their country, according to Andriy Yermak, head of the President's Office.
He said this in a comment to Britain's Channel 4 News, according to an Ukrinform correspondent.
"First of all, I am absolutely sure that more than 90% of our population will be here, defending our country. If this [further Russian invasion] happens, it will be a verdict for NATO and a big problem, because all Western countries will have to explain to their citizens why they have been negotiating for so long, but this [Russian invasion] has still happened," Yermak said.
Yermak stressed that the goal of Ukraine's joining NATO is enshrined in the Constitution of Ukraine.
"We have made this decision. And only the Ukrainian society and NATO members have the right to decide [on the country's accession to NATO]. If any NATO member state is against this decision, please tell us about it in a proper, honest and friendly manner," he said.
Yermak also added that the victory of Ukraine, the settlement of the Ukrainian case will be one of the greatest victories for all partners of Ukraine.
"At the same time, some problems and the continuation of the war in Ukraine or the escalation of the situation will be one of the biggest losses for our partner countries," he added.
On January 10, in Geneva, the U.S. and Russian delegations held a one-day meeting aimed at the diplomatic search for ways to defuse tensions in Europe. The U.S. delegation rejected any possibility of curtailing NATO's open-door policy for other countries, including Ukraine.
The second round of talks with Russia is scheduled for January 12 as part of the NATO-Russia Council meeting in Brussels. On January 13, the situation around European security will be discussed within the OSCE.
op