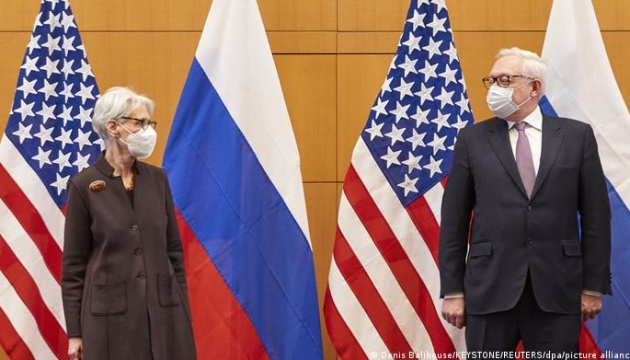 U.S.-Russia talks: 100% as projected
The United States has snubbed the Kremlin's ultimatum. In turn, Russia has refused to de-escalate at the Ukraine border. No documents have been signed
The Russian delegation was headed by Deputy Foreign Minister Sergei Ryabkov, while the American delegation was led by Deputy Secretary of State Wendy Sherman. This is not a very high, which offered the best evidence that there would be no breakthroughs, but a routine exchange of arguments and claims. In fact, both capitals had voiced everything set to be told at the talks so the parties simply had no chance to reach an agreement on anything.
In the days leading up to the Geneva meeting, much was said in a demonstrative way so most observers had no doubt that the U.S.-Russian talks on January 10 were expected to bear only an informational effect. And it seems that the initiative in this regard definitely was on the Russian side. A "diplomatic" statement by Sergei Ryabkov that "NATO needs to pack its 'manatky' (stuff) and crawl back to the positions of 1997" actually exposes everything: there is no exact equivalent of the word "manatky" in English, so the speech was clearly intended for the Russian-speaking audience, as if to say, "get ready, we'll show them Kuzma's mother!" (another reference to a hardly translated Russian catchphrase Nikita Khrushchev once used, aggressively threatening the West).
U.S. Secretary of State Antony Blinken replied in a different tone, of course, simply stating that America will not make concessions to Russia, albeit doing so in the same categorical coordinate system. That is, none of the parties expected any breakthroughs and never hid this either.
Judging by the rhetoric maintained by diplomats representing other countries and blocs, a very eloquent trend is being observed, perfectly illustrating an unequivocal conclusion: in today's world Russia has no really influential allies - no one has made a statement that would hint at understanding Russia's positions. Instead, the allies of the United States and Ukraine have said a lot.
"We have stated very clearly that we will never compromise on the right for every nation in Europe to choose its own path, including what kind of security arrangements it wants to be a part of. And therefore, it is fundamental that that principle is not violated in any way," said NATO Secretary General Jens Stoltenberg. He also stressed that NATO remains committed to its decision passed at the 2008 Bucharest Summit that Ukraine and Georgia could once become members of the alliance.
EU, France, Germany, Poland, and Lithuania officials spoke in the same vein more than once during the New Year and Christmas holidays – they all stressed the inadmissibility of the Russian settlement project and reiterated the need to ensure Ukraine's rights.
However, the United States left Russia the opportunity to withdraw from confrontation, which Moscow could interpret for domestic consumers as own "outstanding victory." In an interview with ABC News, Antony Blinken said Washington was ready to consider "any legitimate concerns" Moscow put forward and voiced a number of proposals for discussion in Geneva, including on reviving the Treaty on the Elimination of Medium-Range and Short-Range Missiles (START). After all, it was the United States that withdrew from the security agreement under Donald Trump. The U.S. was also ready to discuss reducing tensions, creating more transparency, and strengthening trust – which is about setting up control over military activity across Europe.
It seems that the Kremlin hasn't heard any of this – and didn't even try to hear it: "diplomat" Ryabkov also said ahead of the talks that Russia would not walk back on its demands. Apparently, as part of their strategy, he could say nothing else as it would blur out the general propaganda effect.
Wendy Sherman
Finally, to complete the picture, it should be added that Washington has warned Russia the U.S. will not sign any agreement on the outcome of talks unless Moscow responds to America's concerns, namely, on the buildup of Russian troops on the border with Ukraine and a possible invasion. In other words, no progress is possible until de-escalation on the Ukrainian border is achieved. In fact, Putin was told that no agreements can be reached at gun point.
… The Geneva talks, preceded by at least two weeks of tension, despite the holiday season, lasted 7.5 hours. Not too many details of these discussions were revealed and it is unlikely that more will appear in the near future.
It has been reported that Russia was again warned about the dire consequences of resuming the active phase of aggression against Ukraine. In turn, the Russian official claimed Moscow did not intend to invade Ukraine, instead, "all combat training measures are carried out within our territory, there is no reason to fear any escalation scenario." He also confirmed that the United States has not guaranteed NATO's "non-enlargement."
Wendy Sherman, the head of the American negotiating team, confirmed that the United States insists on de-escalation and withdrawal of Russian forces from the border with Ukraine, and that it does not matter what Ryabkov said about Russian troops remaining "in Russia." However, Sherman said the discussion was fairly open and reiterated the point that Washington was open to a "reciprocal" dialogue on the size and scale of military exercises.
A preliminary conclusion is that the talks in Geneva saw the parties announce for the first time their positions in the contacts of official groups. No one backed down from what had been said earlier. No protocols have been signed. It is possible that certain changes may appear on January 12, during a meeting of the NATO-Russia Commission but there is little hope for that, to be honest.
Oleh Melnychuk, Kyiv
im