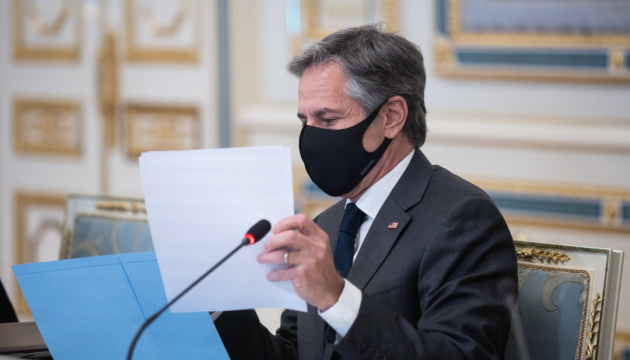 U.S., Europe laid out two paths to influence Putin - Blinken
The United States and the EU have laid out two paths for Russian President Vladimir Putin and Russia: the path of diplomacy and de-escalation and the path of deterrence with massive consequences and serious costs for Russia should it renew its aggression against Ukraine, U.S. Secretary of State Antony Blinken has said.
According to an Ukrinform correspondent, he said this on Wednesday, January 5, at a joint press conference with German Foreign Minister Annalena Baerbock, who is on a visit to Washington.
"It's very hard to make actual progress in any of these areas in an atmosphere of escalation and threat with a gun pointed to Ukraine's head," Blinken said.
According to him, the United States has been working very intensely for some weeks now with allies and partners, including through the G7, NATO, the European Union, indirectly with the European Union, "on elaborating, establishing, coordinating potential sanctions if there is renewed Russian aggression against Ukraine."
"I'm not going to telegraph them publicly, but I can tell you with great confidence that a tremendous amount of work has been done already. There is very strong coordination and collaboration and very strong agreement on measures that would be taken in the event of renewed Russian aggression against Ukraine," Blinken said.
He stressed that if Russia renews its aggression against Ukraine, the United States and Europe will respond with "very strong economic measures, including measures that have not been used in the past or previous episodes of Russian aggression that will inflict very significant costs on Russia's economy and financial system."
"NATO did not invade Ukraine; NATO did not invade Georgia; NATO did not position forces in Moldova against the will of its people. Those are all things, among many others, that Russia has done in recent years. Over the past two decades, it is Russia that has invaded neighboring countries; interfered in other countries' elections; used chemical weapons to attempt to assassinate opponents of the government, and done so on foreign soil; violated international arms control agreements; pulled back from confidence-building and transparency measures long agreed," Blinken said.
According to him, the United States supports the Minsk process and the efforts of France and Germany in the Normandy format, and Washington will make every effort to involve Russia in the peace process in the coming weeks and months.
Blinken added that if Russia launches its further aggression toward Ukraine, "it would certainly be difficult to see gas flowing through [the Nord Stream 2 gas pipeline] in the future."
"Strong transatlantic solidarity is the most effective response and the most effective tool that we have in countering Russian aggression," he said.
op