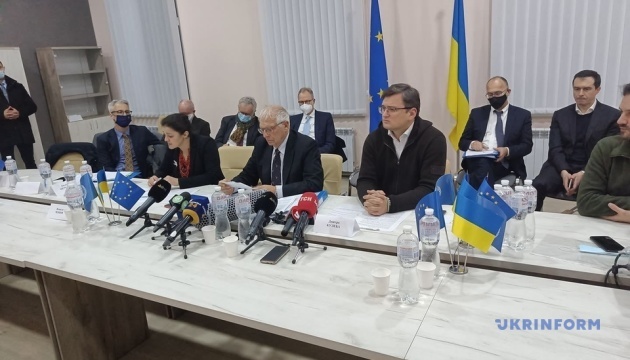 Russia has no right of vote in Ukraine-EU relations - Kuleba
Ukraine and the European Union share the same view that Russia has no right to divide Europe into areas of influence and it has no right of vote in determining the nature of relations between Ukraine and the EU.
Ukrainian Foreign Minister Dmytro Kuleba said this at a joint briefing with EU foreign policy chief Josep Borrell in Stanytsia Luhanska on Wednesday, January 5, according to an Ukrinform correspondent.
"I would like to emphasize that Ukraine and the EU share the same view that Russia has no right to divide Europe into areas of influence and determine where, how and when the European Union is going to enlarge and what kind of relations Ukraine and the EU should have. This is a relationship exclusively between Kyiv and Brussels, and Moscow has no right of vote here," Kuleba said.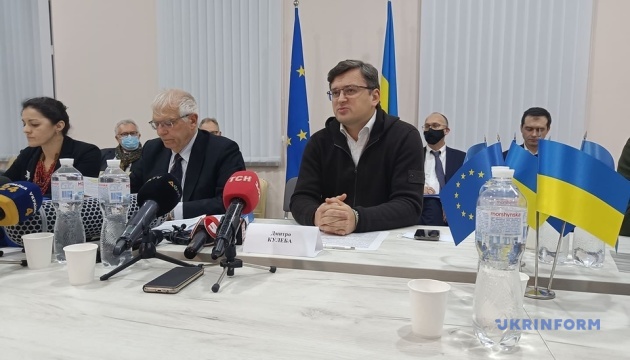 He noted that today the EU High Representative was able to see firsthand and feel the devastating consequences of the conflict in Donbas, started by Russia, as well as Ukraine's efforts to end the war. Kuleba said that representatives of the Ukrainian Joint Forces had briefed Borrell in detail on systemic violations of the Minsk agreements by Russia.
"Ukraine and the EU now face one task: to help de-escalate the situation through diplomatic means and for Moscow to reduce tensions and abandon its aggressive intentions. We are systematically working to deter Russia and, of course, one of the elements of this deterrence package is the preparation of new painful sanctions against Russia," he said.
Kuleba thanked the EU and personally Borrell for supporting Ukraine in this security situation and for supporting the ambitious reform program being implemented by the country.
"We are really stronger when we work on this together with the European Union," he said.
op