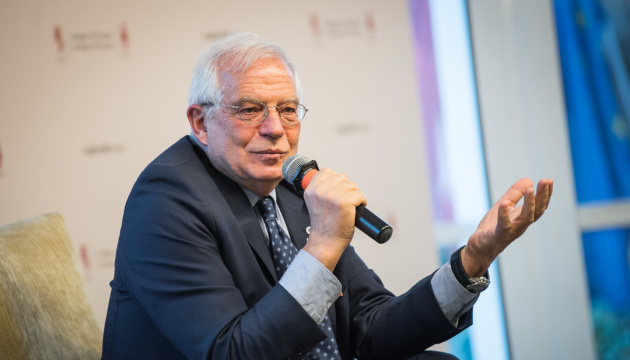 Borrell initiates creation of EU military advisory, training mission in Ukraine
Josep Borrell intends to submit proposals to the European Union to launch an EU military advisory and training mission in Ukraine.
This was stated by the EU High Representative for Foreign Affairs and Security Policy in an interview with Germany's Welt, Ukrinform reports.
According to Borrell, Brussels is mulling to establish an EU Military Advisory and Training Mission Ukraine to have European military instructors train Ukrainian Army commanders.
"We have already assessed on the spot what Ukrainians need, how we can really help, how much such a mission costs, and who can take part in it. I will soon put forward a proposal to the EU member states," Borrell said.
Asked whether the EU should support Ukraine more, Borrell said the EU had provided billions of euros in financial support to Kyiv over the recent years, constantly expanding mutual trade and developing economic relations. "Last week, I decided to support the Ukrainian army with another EUR 31 million. This is aimed at improving logistics skills and combating cyber attacks," the High Representative said. He also reminded that since 2014, more than 80 people have been working in EUAM Ukraine helping to reform the civil security sector, including the police and the prosecutor's office. This will help make Ukraine more resilient to internal and external threats, the diplomat added.
He did not answer the question of how likely Russia is to invade Ukraine, noting only that European and American intelligence agencies are working out all possible scenarios. "A military invasion cannot be completely ruled out, but there are many other scenarios, of which I'm also concerned, even though they are less extreme," Borrell said. Among such options, he called the destabilization of the Ukrainian government through hybrid tactics, further escalation in the east of the country, and the reduction of gas transit to Europe.
The High Representative of the European Union also commented on the scheduled talks between the United States and Russia: "We do not want and should not be an unbiased spectator, over whose head decisions are made." According to him, it is about how the EU can join the talks between Washington and Moscow on de-escalation around Ukraine and security guarantees demanded by Russia.
According to Borrell, if Russia wants to talk about security in Europe, such talks make sense only if the EU participates.
"Anyone who wants to negotiate the future security architecture in Europe must, of course, also talk to Europeans. European security is about us. America and Russia (or NATO and Russia) cannot just negotiate this – even if Moscow imagines it this way… Russia seeking to negotiate a European security architecture without involving the European Union is absurd. We will not accept this. Nothing is decided about us without our presence," the diplomat said, emphasizing that there can be no "Yalta 2."
Borrell also pointed out that for the first time Russia presented its proposals in the form of an agreement. "Demands for security guarantees and the cessation of EU and NATO enlargement are a purely Russian agenda with absolutely unacceptable conditions, especially in view of Ukraine," he said.
He assured that the EU could not compromise on fundamental principles: "The territorial integrity of the country and the right of a sovereign nation to decide independently on cooperation with other nations or alliances – these principles are not negotiable."
As reported, Josep Borrell is paying a visit to Ukraine on his first foreign trip this year.
Photo: European Union
im