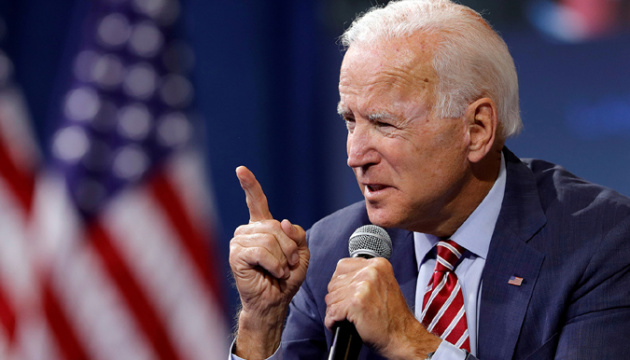 Biden calls on Putin to de-escalate tensions with Ukraine - White House
U.S. President Joe Biden in a phone call with Vladimir Putin called on the Russian leader to reduce tensions in the region, which have intensified recently due to Russia's military build-up.
White House Press Secretary Jen Psaki said this in a statement on Biden's phone call with Putin, Ukrinform reports.
"President Biden urged Russia to de-escalate tensions with Ukraine. He made clear that the United States and its allies and partners will respond decisively if Russia further invades Ukraine," the statement said.
President Biden also expressed support for diplomacy, starting early next year with the bilateral Strategic Stability Dialogue, at NATO through the NATO-Russia Council, and at the Organization for Security and Cooperation in Europe.
"President Biden reiterated that substantive progress in these dialogues can occur only in an environment of de-escalation rather than escalation," the statement said.
At the same time, during a press call organized by the National Security Council, a senior U.S. administration official recalled that the conversation between the two presidents took place at the Russian government's request.
"The tone of the conversation between the two presidents was serious and substantive," the official said.
According to him, the parties framed their positions ahead of the talks scheduled for January and agreed to hold the Strategic Stability Dialogue between the U.S. and Russia starting on January 9-10 in Geneva.
In particular, President Biden told Putin that there were two paths, two aspects of the U.S. approach that will really depend on Russia's actions in the period ahead. "One is a path of diplomacy leading toward a de-escalation of the situation, and the other is a path that's more focused on deterrence, including serious costs and consequences should Russia choose to proceed with a further invasion of Ukraine," the official said.
In addition, he reaffirmed the U.S. intention to adhere to the principle of "nothing about you without you:" no conversations about issues that are of ultimate concern to U.S. partners and allies without the full consultation and participation of U.S. partners and allies. In this regard, the official noted that in the coming days, prior to talks with Russia, the United States, along with allies and partners, including Ukraine, will continue intensive consultations.
At the same time, according to him, both leaders acknowledged that there were likely to be areas where we could make meaningful progress as well as areas where agreements may be impossible.
A phone call between Biden and Putin on December 30 lasted about 50 minutes. The topic of their conversation was the concern about Russia's military build-up along Ukraine's borders.
op