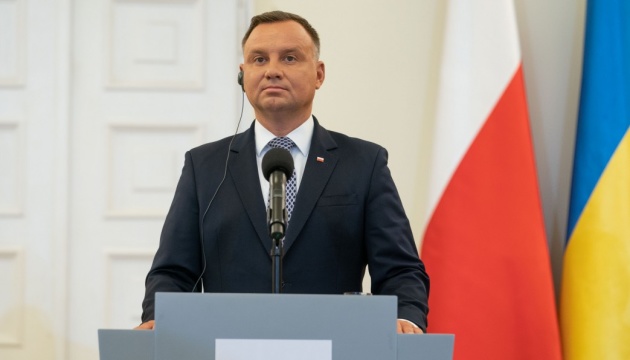 Poland's Duda to be more pro-active in relations with Ukraine next year
In 2022, Polish President Andrzej Duda will be more proactive in relations with Ukraine and Lithuania leaders.
This was stated in a comment to the PAP news agency by Jakub Kumoch, Secretary of State in the Polish President's Chancellery, Head of the International Policy Bureau, Ukrinoform reports with reference to Dziennik Gazeta Prawna.
"We plan to be even more pro-active in relations with Ukraine and Lithuania (the countries that are part of the Lublin Triangle along with Poland - ed.), support reforms in Moldova and Georgia, and fight for territorial integrity," Kumoch said.
He also noted that Duda would pay considerable attention to the Three Seas Initiative, which he launched, and support the Belarusian opposition, led by Svetlana Tikhanovskaya.
The official said that next year, Duda will also be proactive beyond Europe. Noting that Poland is one of Europe's largest countries, it can afford more global policies. According to Kumoch, the Polish leader plans to be more proactive in sub-Saharan Africa, South America, and the Asia-Pacific region. In particular, next year Duda will visit a number of countries West Africa and South America.
The state secretary also said that the president of Poland would like to receive U.S. President Joe Biden in Warsaw next year. He stressed that the United States remains Poland's most important ally, although certain differences exist between Warsaw and Washington.
The president called the attitude to German-Russian cooperation in the context of the Nord Stream 2 project one of the biggest such differences.
im