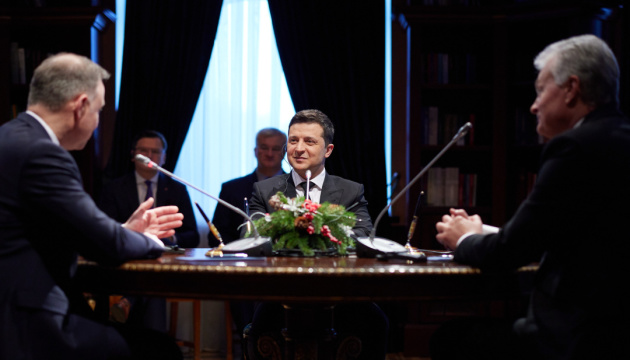 Lublin Triangle summit gives impetus to further integration of three states - Yermak
The first summit of the Lublin Triangle gives another impetus to the further integration of the three states - Ukraine, Poland and Lithuania, according to Andriy Yermak, head of the Ukrainian President's Office.
He wrote this in a post on Facebook, Ukrinform reports.
According to Yermak, the Lublin Triangle summit on December 20 was marked by the common interests of Ukraine, Poland and Lithuania regarding the security of the three countries.
"Together we will be discussing the main strategic and tactical tasks [at a conference with all ambassadors of Ukraine, which is being held in Ivano-Frankivsk region on December 21]," Yermak remarked.
"The president himself is working hard to achieve this goal. Yesterday, in Huta, Volodymyr Zelensky received Presidents Andrzej Duda of Poland and Gitanas Nauseda of Lithuania. The key topics for discussion, in addition to expanding cooperation between our countries, were, of course, the security situation in the region due to hybrid threats posed by Russian aggression, the danger of Nord Stream 2 and the migration crisis on the borders of the EU countries with Belarus," he said.
According to him, Zelensky "emphasized that Ukraine, Poland and Lithuania have common positions and common interests."
The Lublin Triangle is a regional alliance that Ukraine co-founded with Poland and Lithuania in 2020, Yermak said. "Then, we created the Quadriga [format] with Turkey and the Association Trio with Georgia and Moldova. We are becoming more active on the international stage," he added.
Yesterday's meeting, Yermak said, "gives another impetus to the further integration of the three states, united by their common history and modern interests."
Photo: President's Office