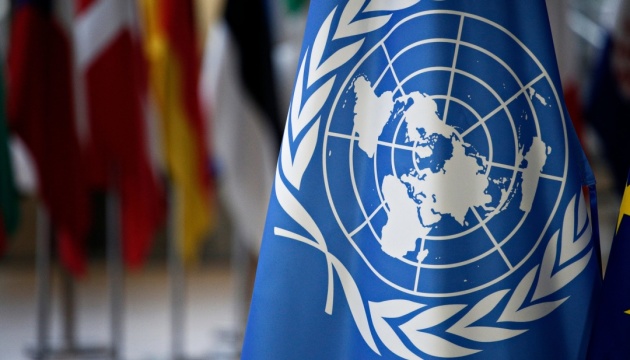 UN General Assembly adopts updated resolution on human rights situation in occupied Crimea
The UN General Assembly adopted an updated resolution "Situation of human rights in the temporarily occupied Autonomous Republic of Crimea and the city of Sevastopol, Ukraine".
As an Ukrinform correspondent reports from New York, 65 countries voted in favour of the resolution, 25 voted against, and 85 abstained.
In particular, the resolution was opposed by the Russian Federation, Armenia, Belarus, Cambodia, China, Cuba, North Korea, India, Iran, Kazakhstan, Sudan, Syria, Kyrgyzstan, the Philippines, Serbia, Venezuela, and Zimbabwe.
This year's resolution calls on UN countries to cooperate within the framework of the international Crimea Platform.
The document states that the bodies and officials of the Russian Federation operating in the temporarily occupied Crimea are illegitimate and should be referred to as "the occupation authorities of the Russian Federation."
The UN General Assembly is concerned about the fact that the occupying power prosecuted individuals for publishing the Secretary-General's reports on the human rights situation in Crimea, which underlie the resolution.
The resolution points out the inadmissibility of politically motivated persecution, torture and arbitrary detentions and arrests, extrajudicial killings, abductions, and enforced disappearances. The document mentions specific names of people persecuted by the occupying power: Emir-Usein Kuku, Halyna Dovhopola, Server Mustafayev, Vladyslav Yesypenko, Nariman Dzhelial.
The resolution also highlights the restrictions faced by Ukrainians, including the indigenous people of Crimea – the Crimean Tatars – in exercising their economic, social and cultural rights, including the right to work, and the opportunity to preserve their identity, culture, and education in the Ukrainian and the Crimean Tatar languages.
The facts of destruction of cultural and natural heritage, illegal archeological excavations, transfer of cultural values, and persecution of religious traditions are also pointed out.
The resolution expresses concern over the militarization and assimilation of young people in Crimea by the Russian Federation, including the military training of children and the introduction of a "military-patriotic" education system.
In addition, it points to the illegality of the census in the Autonomous Republic of Crimea by the Russian occupation authorities.
It is emphasized that the occupying power is obliged to provide drinking water to all Crimean residents, without discrimination, for personal and domestic consumption.
The forcible seizure of Crimea is a violation of international law, and the occupied territories must be returned to Ukraine immediately, the resolution concludes.
As reported, the draft resolution was approved by the Third Committee of the UN General Assembly in November.
ol