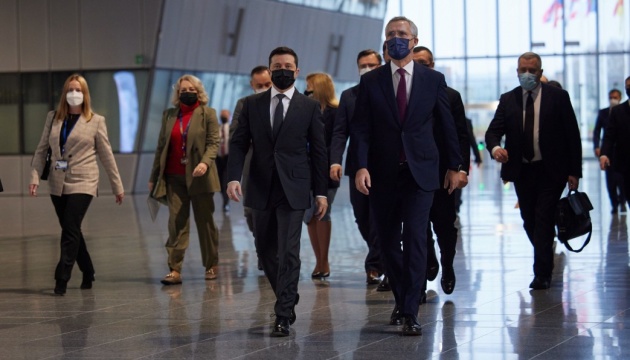 Stoltenberg: Aggressor here is Russia, not NATO
Neither NATO nor its cooperation with Ukraine poses any threat to Russia but, on the contrary, Russia is currently the aggressor and must change its behavior towards its neighbors and stop violating international agreements.
NATO Secretary General Jens Stoltenberg said this at a press conference with Ukrainian President Volodymyr Zelensky in Brussels on Thursday, December 16, according to an Ukrinform correspondent.
"Our cooperation with Ukraine is defensive. It's not in any way a threat to Russia. The aggressor here is Russia. It is Russia that has used military force against Ukraine, illegally annexing a part of Ukraine, Crimea, back in 2014 and continuing to destabilize eastern Ukraine. And now we see a significant, strong military build-up in and around Ukraine with combat-ready troops, with armored units, with battle tanks, with a lot of advanced equipment that is actually absolutely unjustified and is undermining the security of Ukraine, but also the security of Europe. So it is for Russia to change behavior. It is for Russia to change course," he said.
Stoltenberg said that the disturbing thing is that this is a pattern seen over many years. "With Russia invading neighbors -- Georgia, Ukraine -- Russia violating key arms control agreements, like for instance, the INF treaty banning all intermediate-range weapons, and Russia also deploying new nuclear-capable missiles in Europe," he said.
"We are calling on Russia to step down and to de-escalate. And while we also so clearly convey that we are saddened by this development. We want another path. We want another development in Europe. So we will continue to strive for a better relationship with Russia. We'll continue to strive for meaningful dialogue with Russia. We are ready to sit down and discuss a wide range of issues, Confidence Building Measures, arms control, transparency, risk reduction, many other issues that can reduce the risk, for instance, accidents or even an armed conflict in Europe. But we can never compromise on the main principle of respecting the sovereignty and territorial integrity of all nations in Europe, including, of course, Ukraine," Stoltenberg said.
"We will not compromise on the right of Ukraine to choose its own path. We will not compromise on the right for NATO to protect and defend all NATO Allies. And we will not compromise on the fact that NATO has a partnership with Ukraine, which is important for us and for Ukraine as a sovereign nation. NATO as an Alliance of 30 democracies, of course, has the right to work closely with a closer partner as Ukraine," he added.
Zelensky paid a two-day visit to Brussels. On December 15, he took part in the Eastern Partnership summit and held a series of bilateral meetings with European leaders and heads of European institutions. On December 16, the Ukrainian delegation held talks at NATO headquarters, to discuss the situation regarding the amassing of Russian troops in the occupied territories of Ukraine and along its borders.
Photo credit: President's Office
op