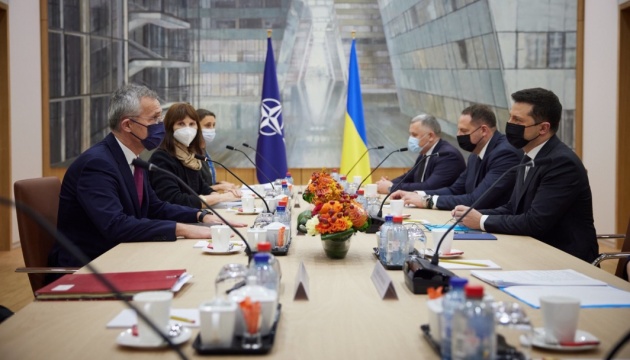 NATO not to go for compromise on sovereign nations' right to join - Stoltenberg
NATO has an open doors policy, which is enshrined in Article 10 of NATO's founding Washington Treaty, saying the Alliance can invite other countries to join, so NATO accepts no compromises as to the right of sovereign nations to aspire to become members of the Alliance.
That's according to NATO Secretary General Jens Stoltenberg who spoke at a joint press conference with Ukrainian President Volodymyr Zelensky in Brussels on Thursday, December 16, an Ukrinform correspondent reports.
"We stand in solidarity with Ukraine, we continue to support their efforts to become a NATO member, and we also send a very clear message that we are ready to talk to Russia. We actually believe in dialogue, we believe that dialogue is important, especially when times are difficult as they are now. And our invitation to Moscow to meet in the NATO-Russia Council stands and we are ready to sit down. But we will never compromise on the right of every sovereign nation, as Ukraine, to choose its own path and on the principle that it's for Ukraine and the 30 allies to decide when Ukraine is ready to join the Alliance," said Stoltenberg.
The secretary general said he had been present at the NATO Summit in Bucharest in 2008 where "all Allies agreed that Ukraine will become member of NATO." The Alliance stands by that position, Stoltenberg underlined.
"What is important now is that we focus on reforms for Ukraine to meet NATO standards and I welcome the strong commitment by President Zelensky on the reforms, and I also know, for instance, that when Ukrainian forces and NATO forces operated together – in Afghanistan, in Iraq, or elsewhere – that's important in our efforts to fight international terrorism, but it's always a way to increase and strengthen interoperability of NATO and Ukrainian forces," said Stoltenberg.
The open doors policy pursued by NATO manifests itself in deeds, not only words, as in the case of Montenegro and Northern Macedonia, which have already become new members despite Moscow's protests, Stoltenberg recalled.
"We are supporting Ukraine in Ukraine's efforts to come closer to NATO membership, we help with reforms, fighting corruption, capacity building, modernizing Ukraine's security and defense institutions. NATO and Allies also provide training, advising, we have joint exercises, NATO Allies also provide equipment, so we support Ukraine, we are strengthening Ukraine's defense and armed forces, and this is practical cooperation and practical support NATO and Allies provide to Ukraine," Stoltenberg noted.
As reported earlier, President Volodymyr Zelensky is paying a two-day visit to Brussels. Yesterday, the head of state took part in the Eastern Partnership Summit and held a series of bilateral meetings with European leaders and heads of European institutions.
Today, the Ukrainian delegation held talks at NATO Headquarters, during which the situation regarding the buildup of Russian troops in the occupied territories of Ukraine and along the country's borders was discussed.
im