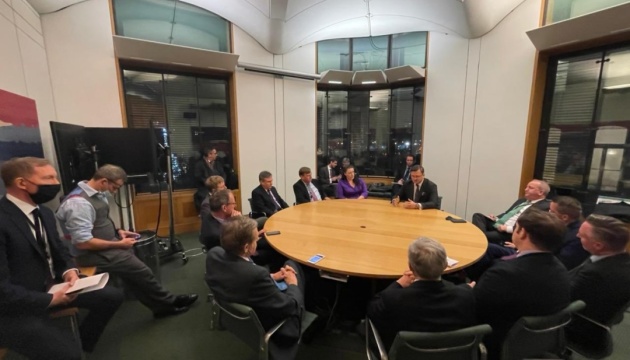 Kuleba meets with British MPs
Members of the British Parliament are ready to stand with Ukraine to deter Russia from further aggression.
"Great meeting with the members of Commons & Lords of UK Parliament. Grateful to parliamentarians for their unfaltering support for Ukraine's sovereignty and territorial integrity, as well as readiness to work together on deterring Russia and demotivating it from further aggression," Minister of Foreign Affairs of Ukraine Dmytro Kuleba posted on Twitter on December 8.
As reported, The Washington Post published the U.S. intelligence data, according to which 70,000 Russian troops are concentrated in three regions near Ukraine's border, as well as in the temporarily occupied Crimea. In total, 50 combat tactical groups, tanks and artillery are currently deployed there.
On December 5, Minister of Defense of Ukraine Oleksiy Reznikov announced on Estonian TV that the number of Russian troops near the Ukrainian border could increase up to 175,000.
Meanwhile, U.S. President Joe Biden said his administration was preparing a series of initiatives aimed at deterring Russian aggression.
On December 7, the U.S. and Russian presidents held talks for over two hours. Joe Biden intends to discuss their results with European allies, as well as with President Volodymyr Zelensky.
ol