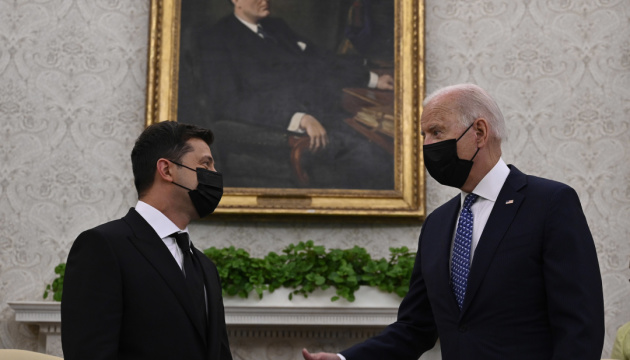 Biden to talk to Zelensky on Thursday - White House
U.S. President Joe Biden plans to call Ukrainian President Volodymyr Zelensky on Thursday, December 9, to discuss, among other things, the results of his talks with Russian President Vladimir Putin.
National Security Advisor Jake Sullivan said this at a press briefing at the White House on Tuesday, December 7, according to an Ukrinform correspondent.
"President Biden will be speaking with President Zelensky on Thursday, following on yesterday's discussion between President Zelensky and Secretary Blinken," Sullivan said.
At the same time, he stressed that the Biden administration was in daily contact with senior officials in the Ukrainian government.
"Our message to our friends in the Ukrainian government, as our message was today to President Putin, is that the United States supports the Minsk process, wants to see progress made towards a ceasefire, towards confidence-building measures. And that is the best way forward," he said.
He also said that President Biden would be speaking with the leaders of both houses of Congress and talking to them about ways in which the administration and the Congress can work together on a bipartisan basis "to stand up for American interests and values and stand behind our friends and partners."
Sullivan also said that Biden had already held talks with the leaders of France, Germany, Italy and the UK after his talks with Putin to debrief them on the video call and to consult on the way forward. In addition, according to Sullivan, the White House team is debriefing the embassies of NATO members, EU members, and key Indo-Pacific allies on the results of the talks with Putin.
op