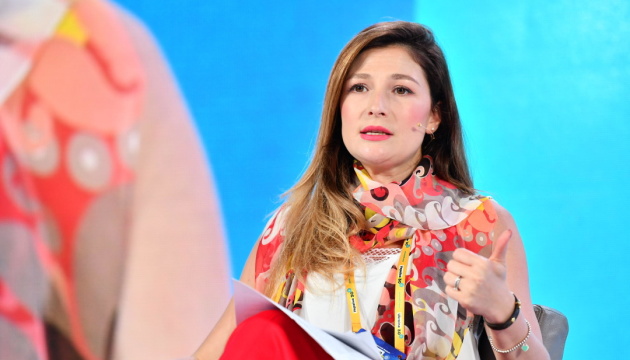 Dzheppar: Russia currently promoting three disinformation narratives about Ukraine
Russia is currently promoting three main disinformation narratives about Ukraine in various formats and through various channels.
"Our analysts have actually identified three lines along which Russian propaganda or Russian officials promote their narratives about Ukraine. The first is the military provocation that Ukraine is allegedly preparing against Russia, the second is that Ukraine is unconstructive and does not comply with the Minsk agreements, and the third is that Ukraine uses Bayraktar drones against the civilian population," First Deputy Foreign Minister of Ukraine Emine Dzheppar said at the Kyiv Stratcom Forum, the first international strategic communications forum in Ukraine, an Ukrinform correspondent reports.
These three main narratives of the Russian Federation are promoted in different formats and through different channels, the official added.
Dzheppar noted that Ukrainian diplomacy responds in a proper way. In particular, Foreign Minister Dmytro Kuleba actively communicated with partners at ministerial meetings of NATO in Riga and OSCE in Stockholm last week, conveying Ukraine's position and vision for developments and possible threats coming from Russia.
ol