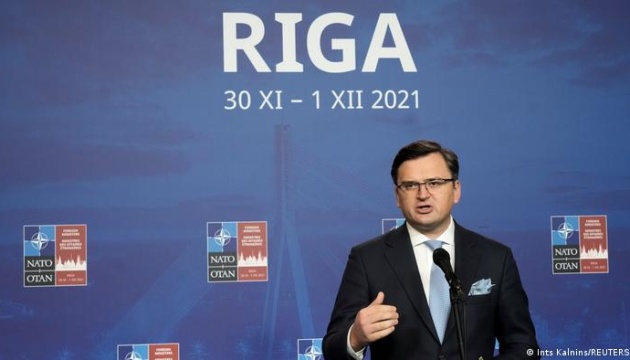 Invasion of Ukraine may pose threat to Russia itself - Kuleba
The high cost of expanding Russian aggression against Ukraine, in human and economic terms, could be a threat to Russia itself.
That's according to Minister for Foreign Affairs of Ukraine, Dmytro Kuleba, who gave an interview to the Latvian news outlet Sargs.lv, the translation of which was published by Ukraine's Embassy in Latvia, Ukrinform reports.
"An attack on Ukraine could be a threat to Russia itself. For many years, they have spent millions to zombify their population, dehumanize and humiliate Ukraine through propaganda media. However, despite this, it's not yet clear to the Kremlin how the general public in Russia will react if an endless flow of coffins carrying bodies of Russian soldiers starts coming in from Ukraine," Kuleba said.
He noted that back in 2014, Ukraine turned out to be completely unprepared for the Russian incursion, but even then Russia managed to capture only a relatively small territory in the east of the country, namely parts of Donetsk and Luhansk regions.
"At the moment, our Armed Forces are incomparably stronger. If Russia does decide to go to war, they will have to expect an extremely high death toll among Russian soldiers, incomparable to 2014. It will be a massacre," warned the head of Ukrainian diplomacy.
In his opinion, Russia also understands this. In this context, the foreign minister recalled that in the spring, when Russia was amassing forces on the Ukrainian border in preparation for the exercises, field hospitals were deployed in the area.
"Everyone understands that no one sets up such hospitals during regular military exercises. This shows that the leadership of the Russian armed forces is well aware that if there is an order to attack Ukraine, it will be a war of a completely different level," said the minister.
Commenting on the readiness of Ukrainian society to fight off Russian aggression, Kuleba recalled that in 2014, thousands lined up at conscription stations to sign up for service as many Ukrainians volunteered to deploy to the front line.
"I don't want to appear self-assured, but I'd say that Russia is well aware of this fact. The Kremlin knows that we have become much stronger. Therefore, it is already clear that Russia is paying much more attention to planning the offensive than they were in 2014. Moreover, if Russia invades now, they will no longer be able to conceal the attack by claiming they are not a party to the conflict. In this case, Russia will have to bear full responsibility for such an invasion," said the foreign minister.
He noted that in case of a military incursion on the part of Russia, Ukraine will have to declare general mobilization.
"People may not like the government, lawmakers; people may argue with each other, but at the moment when they have to defend their country and freedom, Ukrainians are able to unite. Freedom and the continued existence of Ukraine as an independent state are the most fundamental values ​​for the Ukrainian public," Kuleba said.
Photo: mfa.gov.ua
im