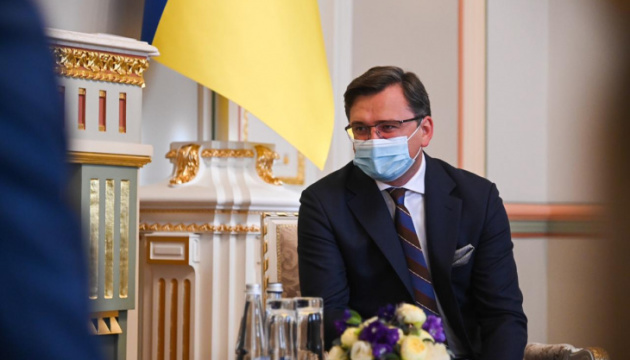 Kuleba: Thirty-six OSCE countries support Ukraine's initiative to monitor border with Russia
The draft decision of the OSCE Council of Ministers, proposed by Ukraine, to have the Special Monitoring Mission (SMM) monitor the area on the Ukrainian-Russian border has received the support of 36 other member states.
This was stated by the Minister for Foreign Affairs of Ukraine, Dmytro Kuleba, who spoke in Stockholm on Thursday, addressing the 28th meeting of the OSCE Council of Foreign Ministers, according to Ukrinform's own correspondent.
"I would like to thank the 36 participating states for joining Ukraine. In co-sponsoring MC drop decision on the monitoring of the Ukraine Russia state border," Kuleba said.
He stressed that Russia had been systematically obstructing the work of the OSCE SMM in Ukraine "in order to continue its aggression against Ukraine."
The Minister pointed out that even on the eve of the OSCE Ministerial Council, the SMM reported yet another incident involving the Russian occupation forces denying SMM's access to the territories that are temporarily beyond the control of the Ukrainian government.
The U.S. Mission to the OSCE during a meeting of the Organization's Permanent Council last Thursday welcomed Ukraine's efforts to develop a fully technical, apolitical draft resolution on monitoring, co-authored by the United States. At the same time, the American mission noted that Russia almost immediately showed it had no intention to take a constructive position on the draft decision of the OSCE Ministerial Council.
The support for the draft decision, put forward by 37 member states, was also expressed by the EU Mission during the OSCE Permanent Council meeting. The European Union believes such a decision will allow further progress in the conflict resolution process.
As Ukrinform reported earlier, the two-day 28th Ministerial Council of the Organization for Security and Cooperation in Europe (OSCE) kicked off in the Swedish capital on Thursday, December 2, involving top diplomats from 57 participating states.
The OSCE Council of Foreign Ministers is the central policy-making and governing body of the Organization for Security and Co-operation in Europe. It is the OSCE's concluding high-level event aimed at reviewing the Organization's activities over the past year and setting strategic guidelines for the year to come.
im